Your favorite scent, on the go
Want to freshen up throughout the day, but your perfume bottle is too large to carry around? Our Perfume Storage Bottle is just the solution. Fill with up to 0.17 liquid oz of your favorite scent for convenient touch-ups anytime, anywhere.
Up to 70 sprays (that you can see)
Our ultra-small atomizer spray bottle provides up to 70 sprays of your favorite scent, for an on-the-go freshen-upper that will last you for months in one fill. Our fine-spray pressure nozzle dispenses a generous mist of your signature scent everytime: it's like having your full-sized perfume, but without the weight of the bottle. A clear window indicator on the atomizer bottle allows you to monitor the perfume level inside.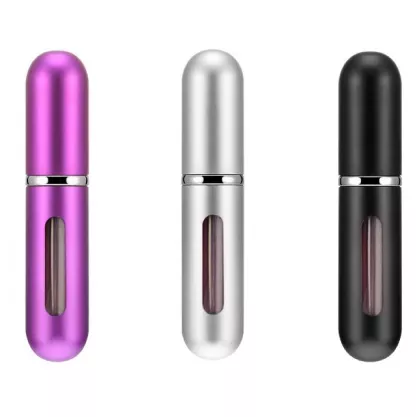 Filling up is simple
Just grab your perfume and go. Our Perfume Storage Bottle makes freshin' up while on the go easy and stress-free. Simply spritz once (or twice — or three times) and soak up your favorite scent. Perfect for date night, a job interview, or a night out on the town with your girls, this atomizer spray bottle is the ultimate must-have in your clutch or purse.
Step 1: Remove the spray nozzle from your perfume bottle.
Step 2: Place the bottom of the atomizer bottle onto the perfume pump.
Step 3: Press and hold down until the atomizer is filled (do not fill to 100% though).
Carry anywhere
At just 3 x 0.4 inches (L x W) and nearly weightless, slip this lipstick-sized sprayer into your evening clutch, jacket pocket, or little makeup bag for fragrant touch-ups throughout the workday or throughout the night as you party away.
Shipping & Delivery
Understanding Our Shipping Process
At our heart, we're all about making things effortlessly simple for you. Here's a step-by-step look at how our shipping works:
Soon as you place an order, it's whisked off to our Fulfillment Center in sunny California.
Your order then gets packed up and faces a meticulous final check.
Once it passes with flying colors, we ship it through USPS, known for their reliable and prompt service.
Your order should reach you within 1-3 business days (excluding weekends and holidays).
Throughout this entire process, from initial processing to final delivery, your order is tracked and each significant change in status is communicated to you promptly. Rest assured, you're kept in the loop through emails at each step along the way! After all, we're in this journey together.
Please note that currently, we only ship within the United States. If you are located outside of the U.S. and wish to purchase items in higher quantities, we would love to accommodate your needs. Please reach out to our Helpdesk for further assistance and potential shipping arrangements.
Refunds & Returns
Our ultimate objective is to ensure our customers are completely satisfied with each purchase. Here's our refund policy to guide you through the process:
Order Not Received Within 3 Business Days
If you do not receive your order or it doesn't arrive within the guaranteed time frame (3 business days, excluding weekends and holidays), you can request a full refund.
Product Mismatch or Damaged Items Received
In the unfortunate event that you receive damaged, defective, or items that do not match the product as shown on product page(excluding minor color differences), we will issue a full refund, including the product price and the original shipping cost, upon receiving photo evidence. Please include clear images showing the product.
Customer Remorse
For instances where a customer changes their mind, no longer requires the received product, or has ordered the wrong item, a full refund of the product price will be provided. Shipping cost paid is not refundable in case customer remorse or customer fault. To process this refund, the customer must return the item at their expense to our warehouse, ensuring the item remains unused.
Return/Refund/Exchange requests are processed within 3 business days of the request.