Description
Elevate Your Styling Experience, Minus the Salon Price
No more dealing with tangled cords, low batteries, or accidental burns. Are you tired of the hair styling struggles? It's time to uncover the secret: our Auto Ceramic Hair Curler simplifies hairstyling, offering convenience and professional results right in the comfort of your home. Discover how to achieve that salon-quality blowout from the convenience of your vanity or bathroom.
Cordless Convenience
Step into the cordless era with our sleek, rechargeable hair curling tool that replaces traditional curling irons. No more wrestling with tangled cords or hunting for power outlets. The Auto Ceramic Hair Curler is 100% cordless, providing hassle-free styling.
Two Curling Directions
Featuring a unique ceramic, heat-isolated styling chamber to prevent burns, this hair curler offers dual-direction styling. Create both left and right-sided curls effortlessly, without the need for additional attachments.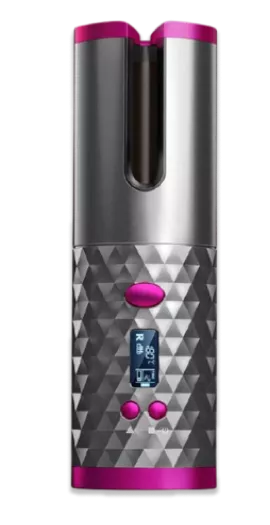 Quick Heat-Up
Experience rapid heating, reaching temperatures of up to 392°F (200°C) in just 70 – 80 seconds. The Auto Ceramic Hair Curler fully charges in 3.5 hours, providing up to 60 minutes of continuous styling. Customize your curling experience with adjustable settings, allowing for quick styling.
Informative Display
Stay informed with the easy-to-read LCD layout screen, providing essential information such as battery life, timer duration, styling direction, and temperature settings.
USB Charging
Say goodbye to tangled cords and hello to hassle-free charging. The Auto Ceramic Hair Curler is powered by a simple USB cord, compatible with power banks, laptops, or wall outlets for ultimate convenience.
Safety Meets Style
Our Auto Ceramic Hair Curler boasts a unique ceramic, heat-isolated styling chamber to ensure it remains cool to the touch while in use. Additionally, it features a built-in auto-shut off function for added safety, giving you peace of mind while styling your hair.
Compact and Complete
Measuring just 2.2 x 7.48 inches (W x H), our Auto Ceramic Hair Curler is the perfect travel companion. Each purchase includes a USB cord for easy charging, a convenient carrying bag, two hair clips, a comb, and an instruction manual, allowing you to effortlessly style your hair on the go without the need for an outlet plug (just ensure your curler is fully charged!).