Side Cut Mirrored Cat Eye Glasses
Make a subtle statement
Alluring cat-eye shape
One of the amazing accessories to enhance your style statement is cat-eye sunglasses. They are trendy and never really go out of style. Turn heads with these oversized cat-eye sunglasses featuring a bold thick frame with an abstract marble print. A wonderful addition to your eyewear collection!
For your stunning looks
Here's your new favorite fashion accessory
Excellent wearing experience
Made with a plastic-based frame, metal hinges, and reflective UV400 protective lenses, they are ergonomically designed to give you a comfortable wearing experience.
100% UV400 protection
These cat-eye sunglasses give you 100% protection against harmful UVA/UVB rays for your eye care, thus providing all-day wearing comfort.
Classic shape with a little more flare
The marble frame has been all the rage recently, and we're not surprised! This frame paired with a mirrored lens is bound to make heads turn.
Sunglasses dimensions
These sunglasses have a really comfortable fit!
Measurements: Lens Width: 59mm. Nose Bridge: 15mm. Lens Height: 54mm. Total Width: 150mm
Great for any occasion
Classic yet fun, these bright cat eye beauties are so versatile they can accompany you everywhere. Suitable for walking, driving, shopping, traveling, taking photos, and other outdoor activities, these cat-eye sunglasses ensure that you will be able to rock these sunnies through all seasons in comfort and style! Go ahead, test them!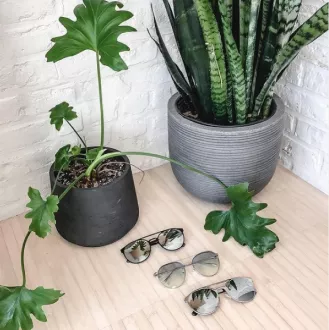 About zeroUV
Founded in 2001 by eyewear enthusiasts, zeroUV has become a prodigiously curated eyewear boutique for the fashion savvy individual. At zeroUV we strive to bring our customers the latest in eyewear fashion for a fraction of high retail prices. We at zeroUV view ourselves as lifestyle advocates. We seek to inspire others to chase who they truly see themselves as. Founded by individuals who grew up during the California indie movement, we aim to share our journey with our fans. We pride ourselves on bringing people together through our brand, and we encourage others to follow us along this amazing adventure. Not only are sunglasses a staple in fashion and appearance, zeroUV Sunglasses offer full eye protection against harmful UVA & UVB rays. In addition all eye wear meets the United States ANSI z80.3 Standard, as well as satisfies European CE Safety Compliance Standards.
Designed In
Huntington Beach, California
Specification:
Side Cut Mirrored Cat Eye Glasses
Shipping & Delivery
Understanding Our Shipping Process
At our heart, we're all about making things effortlessly simple for you. Here's a step-by-step look at how our shipping works:
Soon as you place an order, it's whisked off to our Fulfillment Center in sunny California.
Your order then gets packed up and faces a meticulous final check.
Once it passes with flying colors, we ship it through USPS, known for their reliable and prompt service.
Your order should reach you within 1-3 business days (excluding weekends and holidays).
Throughout this entire process, from initial processing to final delivery, your order is tracked and each significant change in status is communicated to you promptly. Rest assured, you're kept in the loop through emails at each step along the way! After all, we're in this journey together.
Please note that currently, we only ship within the United States. If you are located outside of the U.S. and wish to purchase items in higher quantities, we would love to accommodate your needs. Please reach out to our Helpdesk for further assistance and potential shipping arrangements.
Refunds & Returns
Our ultimate objective is to ensure our customers are completely satisfied with each purchase. Here's our refund policy to guide you through the process:
Order Not Received Within 3 Business Days
If you do not receive your order or it doesn't arrive within the guaranteed time frame (3 business days, excluding weekends and holidays), you can request a full refund.
Product Mismatch or Damaged Items Received
In the unfortunate event that you receive damaged, defective, or items that do not match the product as shown on product page(excluding minor color differences), we will issue a full refund, including the product price and the original shipping cost, upon receiving photo evidence. Please include clear images showing the product.
Customer Remorse
For instances where a customer changes their mind, no longer requires the received product, or has ordered the wrong item, a full refund of the product price will be provided. Shipping cost paid is not refundable in case customer remorse or customer fault. To process this refund, the customer must return the item at their expense to our warehouse, ensuring the item remains unused.
Return/Refund/Exchange requests are processed within 3 business days of the request.

Side Cut Mirrored Cat Eye Glasses