Plants PU Leather Hard Glasses Case – Daffodil
This folding, magnetic hard leather glasses case is the perfect companion for your eyewear. Smart, compact design uses a magnetic latch to form a firm but easy-to-open seal.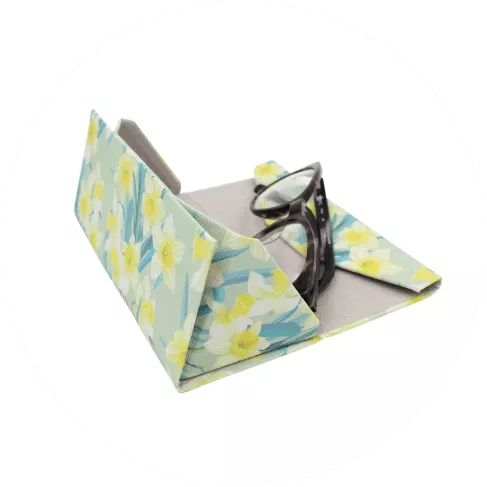 Keep sunglasses safe and enjoy the scenery
For every daffodil lover
Highlight your nature lover identity
If you are always in search of stylish accessories, look at Real Sic's production: they've designed this adorable flower glasses case for nature lovers!
Magnetic folding for the ease of use
Folds flat for easy storage. Cool, simple design that expands when needed and folds away when not in use. No buttons or clasps, just magical magnets.
Premium materials only
Compatible with glasses or sunglasses. The design is printed on leather and attached to a cardboard core, making this a lightweight case with a premium feel.
Manufactured in the USA
The case's manufacturer, Real Sic is based in Atlanta. This glasses case was designed and produced in the United States of America.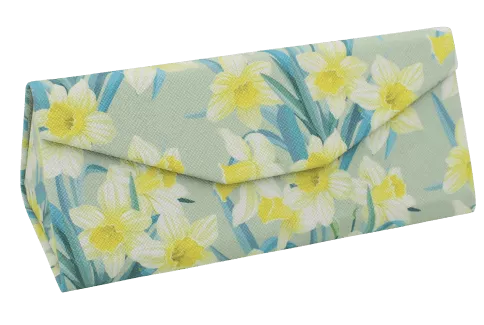 Enlighten your mood with the Daffodil glasses case
This folding, magnetic hard leather glasses case is the perfect companion for your eyewear. It fits eyeglasses and sunglasses of most sizes and includes a lens cloth. So keep your glasses secure in a cute, plant case.
Shipping & Delivery
Understanding Our Shipping Process
At our heart, we're all about making things effortlessly simple for you. Here's a step-by-step look at how our shipping works:
Soon as you place an order, it's whisked off to our Fulfillment Center in sunny California.
Your order then gets packed up and faces a meticulous final check.
Once it passes with flying colors, we ship it through USPS, known for their reliable and prompt service.
Your order should reach you within 1-3 business days (excluding weekends and holidays).
Throughout this entire process, from initial processing to final delivery, your order is tracked and each significant change in status is communicated to you promptly. Rest assured, you're kept in the loop through emails at each step along the way! After all, we're in this journey together.
Please note that currently, we only ship within the United States. If you are located outside of the U.S. and wish to purchase items in higher quantities, we would love to accommodate your needs. Please reach out to our Helpdesk for further assistance and potential shipping arrangements.
Refunds & Returns
Our ultimate objective is to ensure our customers are completely satisfied with each purchase. Here's our refund policy to guide you through the process:
Order Not Received Within 3 Business Days
If you do not receive your order or it doesn't arrive within the guaranteed time frame (3 business days, excluding weekends and holidays), you can request a full refund.
Product Mismatch or Damaged Items Received
In the unfortunate event that you receive damaged, defective, or items that do not match the product as shown on product page(excluding minor color differences), we will issue a full refund, including the product price and the original shipping cost, upon receiving photo evidence. Please include clear images showing the product.
Customer Remorse
For instances where a customer changes their mind, no longer requires the received product, or has ordered the wrong item, a full refund of the product price will be provided. Shipping cost paid is not refundable in case customer remorse or customer fault. To process this refund, the customer must return the item at their expense to our warehouse, ensuring the item remains unused.
Return/Refund/Exchange requests are processed within 3 business days of the request.
Plants PU Leather Hard Glasses Case – Daffodil