SASSY WOOF Dog Leash – Stylish Rainbow
Vibrant and safe leash crafted for your furry companion. Enhance your dog's style with this durable accessory.
Vibrant Rope Dog Leash
Make your dog stand out with this eye-catching rainbow dog leash! The bright, colorful rope will add a pop of excitement to your pet's style.
Unmatched Durability
Crafted from robust 100% cotton, the Rainbow Dog Leash is hand-spliced, with whipped ends for added strength. This leash measures 60 inches in length and 0.6 inches in width.
Rainbow Colors Galore
The leash showcases the full spectrum of rainbow colors, including ombre pink, orange, yellow, green, blue, and purple. It's adorned with beautiful rose gold hardware, a matching dog charm, and an accessory ring.
A Leash That Lasts
Care Instructions
Keep It Clean
Avoid using a washing machine; this leash requires hand washing with mild soap and cold water.
Store Safely
To ensure the leash remains in good condition, avoid leaving it where it can fall on the ground, be run over, or chewed by dogs.
Avoid Certain Areas
Steer clear of saltwater and muddy environments, and refrain from rough play that could damage the leash.
Watch Out for Chewers
Don't leave your dog unattended with the Rainbow Leash to prevent any chewing incidents.
Simple and Perfect
Sometimes, simplicity is the key to perfection. The Rainbow Leash is the ideal size, offering both safety and quality. It allows your dog to walk beside you without any fuss, providing reliability and a stylish appearance.
Safety First
The Rainbow Leash is designed to enhance and celebrate your journeys with your dog. It prioritizes safety and is completely harmless for your beloved pet. Enjoy better control during walks and make your outdoor adventures with your dog safe and memorable with the Rainbow Leash!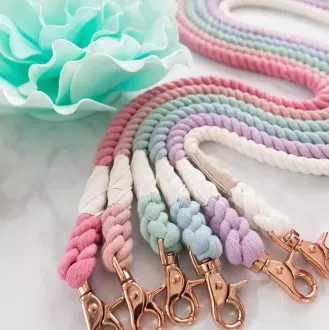 About SASSY WOOF
Modern. Classy. Affordable.
Inspired by our two sassy and spunky dachshunds, Maya The Dox and Winston The Dox, we founded Sassy Woof to provide dog apparel that ensures your furry friend feels comfortable and stylish for daily wear. Our designs are the result of meticulous attention to detail and craftsmanship, and we constantly develop new accessories and products to keep your pup's wardrobe fresh without breaking the bank. Our customers are like family, and we love interacting with each and every one of you!
Sassy Woof is a small business located in the suburbs of Washington D.C. We also donate a portion of our proceeds to
animal charities because we believe no pet should suffer.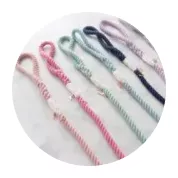 Designed In
Sterling, Virginia
Specification:
SASSY WOOF Dog Leash – Stylish Rainbow
11 reviews for
SASSY WOOF Dog Leash – Stylish Rainbow
Only logged in customers who have purchased this product may leave a review.
Quick Guide to Our Shipping
Step-by-Step to Your Doorstep:
Order Placed: Your order is swiftly sent to our California Fulfillment Center.
Packing & Checking: Items are carefully packed and undergo a meticulous final check.
Shipped via USPS: Renowned for their reliable and prompt service.
Delivered: Anticipate its arrival within 1-3 business days (excluding weekends and holidays).
We'll keep you in the loop with email updates at each stage!
Transparent Shipping Charges
Visible Costs: Shipping charges are displayed on product, cart, and checkout pages.

Note: We currently only ship within the United States. International shopper? Reach out to our Helpdesk for assistance!

Your Order's Journey

Order Confirmation: An email alert once your order is packed.
Shipping Confirmation: An update when it's handed to USPS.
In-Transit and Arrival Alerts: Emails to update you as your order makes its way to you.

Check Your Order's Status

On Our Website: Navigate to "My Account" > "Orders" for all details.
USPS Tracking: Use the provided tracking number on the USPS website.

Can't locate your package? Check with USPS or get in touch with our Helpdesk!

Note:

During high-demand periods, delivery times may slightly extend. Read Full Shipping Policy
Easy Refunds and Returns at MartX.us
30-Day Money Back Guarantee
Hassle-Free Returns: Not satisfied? Return products within 30 days of receipt.
Refund: Applicable for damaged/mismatched items (with photo evidence), customer remorse and for orders not received within 3 business days.
Secure Shopping, Secure Returns
Safe and Simple: Navigate returns easily with clear policies and dedicated support.
Customer Support: Our team is here to assist you through every step of your shopping journey.
Return Shipping Made Easy
We Cover Costs: For damaged or mismatched products, we bear the return shipping cost.
You Cover Costs: For customer remorse or errors, return shipping is your responsibility.
How to Return?
Initiate: Use our easy online forms for registered and guest users alike.
Detail the Issue: Provide photos and detailed descriptions.
Ship Back: Use our prepaid label or your own, depending on the situation.
Receive Your Refund or Exchange: Processed upon receiving the returned item.
Read Our Full Refund Policy for more details.
Buy with Confidence
Our Business Model
Unlock endless variety and enjoy prices that delight with our streamlined dropshipping approach. We cut out the middlemen and slash storage and transport costs to ensure you receive first-rate products without breaking the bank. Benefit from our partnership with a leading supplier, dedicated to upholding superior quality and ensuring punctual deliveries for every order.
Dedicated Support Team
When you shop at MartX.us, you're not alone. Our dedicated support team, is always ready to assist you promptly with any questions or assistance you may need.
30-Day Money Back Guarantee
We proudly offer a 30-day money-back guarantee with every order. If you're not completely satisfied, we're here to make it right.
Secure Shopping Environment
Shop with confidence, knowing that we provide a secure environment using the world's most trusted and popular payment methods. Your data is safe with us.

SASSY WOOF Dog Leash – Stylish Rainbow