Description
Vibrant Rope Dog Leash
Make your dog stand out with this eye-catching rainbow dog leash! The bright, colorful rope will add a pop of excitement to your pet's style.
Unmatched Durability
Crafted from robust 100% cotton, the Rainbow Dog Leash is hand-spliced, with whipped ends for added strength. This leash measures 60 inches in length and 0.6 inches in width.
Rainbow Colors Galore
The leash showcases the full spectrum of rainbow colors, including ombre pink, orange, yellow, green, blue, and purple. It's adorned with beautiful rose gold hardware, a matching dog charm, and an accessory ring.
A Leash That Lasts
Care Instructions
Keep It Clean
Avoid using a washing machine; this leash requires hand washing with mild soap and cold water.
Store Safely
To ensure the leash remains in good condition, avoid leaving it where it can fall on the ground, be run over, or chewed by dogs.
Avoid Certain Areas
Steer clear of saltwater and muddy environments, and refrain from rough play that could damage the leash.
Watch Out for Chewers
Don't leave your dog unattended with the Rainbow Leash to prevent any chewing incidents.
Simple and Perfect
Sometimes, simplicity is the key to perfection. The Rainbow Leash is the ideal size, offering both safety and quality. It allows your dog to walk beside you without any fuss, providing reliability and a stylish appearance.
Safety First
The Rainbow Leash is designed to enhance and celebrate your journeys with your dog. It prioritizes safety and is completely harmless for your beloved pet. Enjoy better control during walks and make your outdoor adventures with your dog safe and memorable with the Rainbow Leash!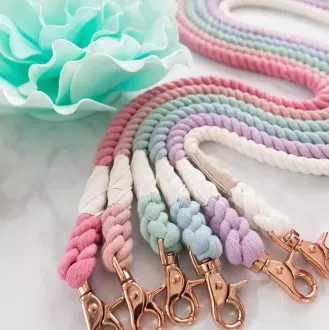 About SASSY WOOF
Modern. Classy. Affordable.
Inspired by our two sassy and spunky dachshunds, Maya The Dox and Winston The Dox, we founded Sassy Woof to provide dog apparel that ensures your furry friend feels comfortable and stylish for daily wear. Our designs are the result of meticulous attention to detail and craftsmanship, and we constantly develop new accessories and products to keep your pup's wardrobe fresh without breaking the bank. Our customers are like family, and we love interacting with each and every one of you!
Sassy Woof is a small business located in the suburbs of Washington D.C. We also donate a portion of our proceeds to
animal charities because we believe no pet should suffer.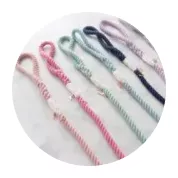 Designed In
Sterling, Virginia