Daily UV Sterilization – Cleaner Smile with Tool-Free Installation
Elevate your oral care routine with this cleaner and germ-free smile solution. One-button operation and long-lasting power for added convenience.
A Clean Start Every Day
Maintaining oral hygiene is essential, and our Toothbrush Holder With UV Sterilizer takes it to the next level. Say goodbye to germs and hello to a cleaner, fresher mouth.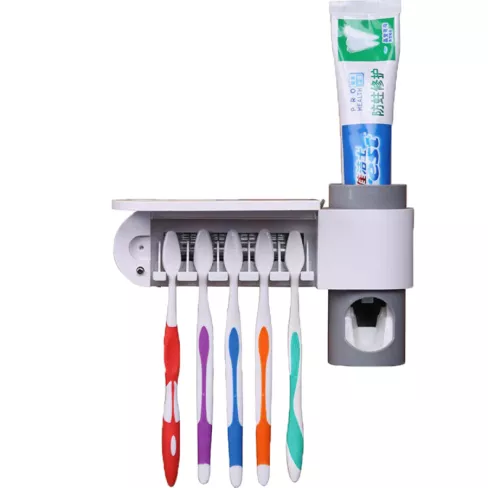 Quick and Effective
Our UV sterilizer eliminates up to 99.9% of bacteria from your toothbrush in just four minutes. UV light produces ozone, a powerful bactericidal gas, ensuring a clean brushing experience every time.
Space-Saving Design
Hold up to five toothbrushes in our compact holder. Its shut-close UV chamber keeps your brushes clean and virtually germ-free. Say goodbye to bathroom clutter.
Fuss-Free Dispensing
Simplify your morning routine with our built-in toothpaste chamber. No more mess or drips. Just press the lever, and our interior vacuum pump dispenses toothpaste onto your brush.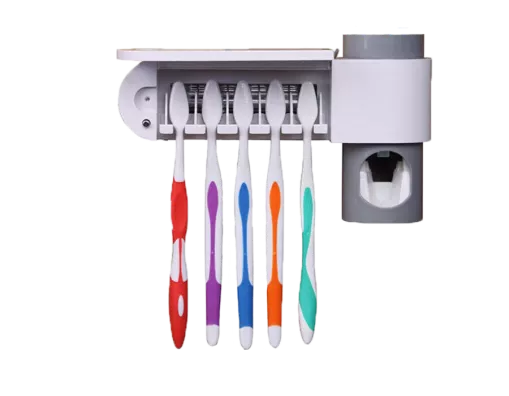 No Tools Needed
Install our Toothbrush Holder With UV Sterilizer effortlessly with the included 3M adhesive pad. Say goodbye to complicated installations.
One-Button Operation
Sanitize your toothbrushes with a simple push of a button. The UV light automatically shuts off after four minutes. It's easy, efficient, and ensures your brushes stay clean.
Long-Lasting Power
Our UV toothbrush station comes with a lithium-ion battery and charger adapter. It fully charges in three hours and provides 100 days' worth of sanitization. Your oral care is in safe hands.
Ready for a Cleaner Smile?
Follow our four simple steps to install the adhesive plate securely.
Prepare the installation wall, ensuring it's clean and dry.
Attach the adhesive mounting pad to the toothbrush sanitizer.
Heat the adhesive tape for 20 seconds with a hairdryer and remove the protective film.
Wait 24 hours after placing the toothbrush sanitizer on the mounting pad for a secure hold.
16 reviews for
Daily UV Sterilization – Cleaner Smile with Tool-Free Installation
You may also like…

Daily UV Sterilization – Cleaner Smile with Tool-Free Installation