Red Serving Carrier for Foil Pans
Discover the Red Serving Carrier for Foil Pans, a versatile and stylish all-in-one carrier that elevates the presentation of your dishes. Its heat-resistant design ensures durability and easy transportation, making it the perfect choice for potlucks, parties, and picnics. Enjoy the convenience and elegance of this award-winning carrier.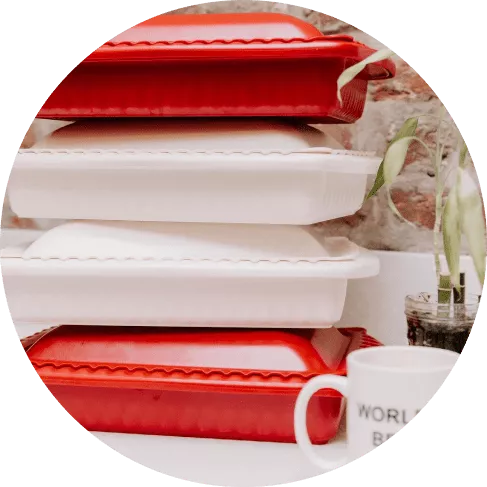 Introducing the Red Serving Carrier for Foil Pans
Experience the convenience and elegance of our patent award-winning serving and casserole carrier designed specifically for use with foil pans. Say goodbye to flimsy and unattractive disposable pans. Our carrier provides the look and feel of a casserole dish, but with the convenience of plastic.
Discover the Features & Benefits
Why Choose the Foil Decor Carrier
Versatile and Stylish
Our carrier features a snap-on lid that can be inverted and used as a bowl, adding a touch of style to your serving experience. Use it for your favorite dips, chips, crackers, buns, and more.
Perfect for Any Occasion
Whether it's potlucks, holiday events, tailgating, parties, or picnics, our carrier is the perfect choice. Elevate the presentation of your foil disposable baking pans with our bold red carrier at your next dinner party.
Heat-Resistant and Durable
Crafted from sturdy plastic, our casserole dish with lid is heat-resistant and can accommodate aluminum baking pans up to 375 degrees Fahrenheit.
Great for House Parties
No need to wait for your guests to finish their meals. Simply take your foil pan out of the Foil Decor carrier and leave it for your guests to enjoy.
How Does the Foil Decor Carrier Work?
Our carrier consists of three components: the base, the ring, and the lid. To use, simply place the foil pan directly into the base, secure the ring over the rim of the pan, and snap the ring in place to secure the pan.
Safe and Easy to Transport
Our carrier is designed to lock your foil pan in place, minimizing the risk of spills. The heat-resistant plastic handles allow for safe and easy transportation, while the secure lid prevents heat loss and spills.
What Makes Our Product Unique?
Enhancing the Art of Serving Food at Events
We understand the common challenges faced with foil pans – their flimsiness, unattractive appearance, and difficulties in transportation. That's why we have developed a serving carrier with three components that work together to secure your foil pan. Transform your disposable foil pan into an elegant casserole dish with our reusable components that are not only easy to clean but also stackable. Simply take the foil pan straight from the oven, place it into the carrier, and you're ready to go! Plus, each package includes two foil pans for added convenience.
4 reviews for
Red Serving Carrier for Foil Pans
Only logged in customers who have purchased this product may leave a review.
Quick Guide to Our Shipping
Step-by-Step to Your Doorstep:
Order Placed: Your order is swiftly sent to our California Fulfillment Center.
Packing & Checking: Items are carefully packed and undergo a meticulous final check.
Shipped via USPS: Renowned for their reliable and prompt service.
Delivered: Anticipate its arrival within 1-3 business days (excluding weekends and holidays).
We'll keep you in the loop with email updates at each stage!
Transparent Shipping Charges
Visible Costs: Shipping charges are displayed on product, cart, and checkout pages.

Note: We currently only ship within the United States. International shopper? Reach out to our Helpdesk for assistance!

Your Order's Journey

Order Confirmation: An email alert once your order is packed.
Shipping Confirmation: An update when it's handed to USPS.
In-Transit and Arrival Alerts: Emails to update you as your order makes its way to you.

Check Your Order's Status

On Our Website: Navigate to "My Account" > "Orders" for all details.
USPS Tracking: Use the provided tracking number on the USPS website.

Can't locate your package? Check with USPS or get in touch with our Helpdesk!

Note:

During high-demand periods, delivery times may slightly extend. Read Full Shipping Policy
Easy Refunds and Returns at MartX.us
30-Day Money Back Guarantee
Hassle-Free Returns: Not satisfied? Return products within 30 days of receipt.
Refund: Applicable for damaged/mismatched items (with photo evidence), customer remorse and for orders not received within 3 business days.
Secure Shopping, Secure Returns
Safe and Simple: Navigate returns easily with clear policies and dedicated support.
Customer Support: Our team is here to assist you through every step of your shopping journey.
Return Shipping Made Easy
We Cover Costs: For damaged or mismatched products, we bear the return shipping cost.
You Cover Costs: For customer remorse or errors, return shipping is your responsibility.
How to Return?
Initiate: Use our easy online forms for registered and guest users alike.
Detail the Issue: Provide photos and detailed descriptions.
Ship Back: Use our prepaid label or your own, depending on the situation.
Receive Your Refund or Exchange: Processed upon receiving the returned item.
Read Our Full Refund Policy for more details.
Buy with Confidence
Our Business Model
Unlock endless variety and enjoy prices that delight with our streamlined dropshipping approach. We cut out the middlemen and slash storage and transport costs to ensure you receive first-rate products without breaking the bank. Benefit from our partnership with a leading supplier, dedicated to upholding superior quality and ensuring punctual deliveries for every order.
Dedicated Support Team
When you shop at MartX.us, you're not alone. Our dedicated support team, is always ready to assist you promptly with any questions or assistance you may need.
30-Day Money Back Guarantee
We proudly offer a 30-day money-back guarantee with every order. If you're not completely satisfied, we're here to make it right.
Secure Shopping Environment
Shop with confidence, knowing that we provide a secure environment using the world's most trusted and popular payment methods. Your data is safe with us.

Red Serving Carrier for Foil Pans