Repair Tape with Weatherproof Sealant
Discover the ultimate repair solution with XL Aluminum Foil Repair Tape (7.9inch). Versatile, sturdy, and easy to use, it's your go-to for sealing and bonding various surfaces.
Versatile Solution for All Your Repair Needs
Discover the incredible power of our XL Aluminum Foil Repair Tape. Bid farewell to messy glues and industrial-grade cements. This all-in-one solution is your go-to for tackling cracks, leaks, and various repair tasks around your home, school projects, or urgent fixes.
Tape it Down or Seal it Shut
Patch Things Up
Say goodbye to unsightly road cracks and pits. Our tape can patch it all up with ease.
Let's Bond
Achieve a rock-solid hold by sticking anything together, from piping to panels and wood.
Stay Dry
Keep moisture, water, and air at bay by using our tape as a reliable sealant.
Easy Four-Step Application
Achieving Solid Adhesion is a Breeze
Step 1
Begin by cleaning the target area, removing any surface dirt or dust.
Step 2
Measure and cut the tape to fit your specific needs, aligning it with the target spot.
Step 3
Peel off the protective film from the tape carefully.
Step 4
Apply the tape with even pressure to ensure a smooth and air-pocket-free seal.
A Universal Solution for Anything:
Built to Exceed Expectations
Crafted from high-performing butyl rubber and aluminum foil, our Aluminum Foil Repair Tape stands as the most reliable product of its kind. Experience a permanent solution for airtight sealing of broken windows, boat leaks, patching rubber roofs, and more.
Tough yet Flexible for Every Need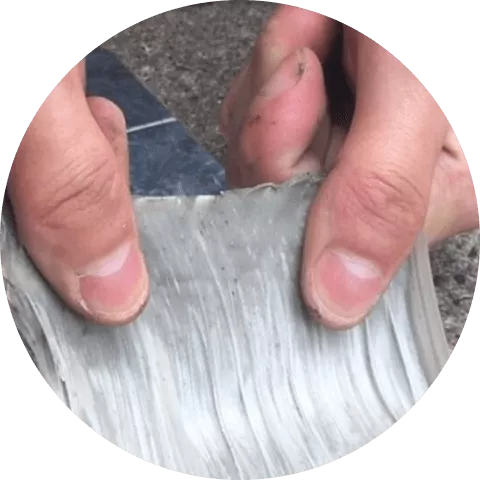 Our XL Aluminum Foil Repair Tape measures 7.9 x 197 inches, offering weather resistance and the ability to withstand temperatures ranging from 40°C to 120°C (104°F to 248°F). It's also resistant to UV rays, ensuring no pe
eling or flaking.
Simple to use—just peel off the film layer and seal the butyl tape wherever you need it.
9 reviews for
Repair Tape with Weatherproof Sealant
Only logged in customers who have purchased this product may leave a review.
Quick Guide to Our Shipping
Step-by-Step to Your Doorstep:
Order Placed: Your order is swiftly sent to our California Fulfillment Center.
Packing & Checking: Items are carefully packed and undergo a meticulous final check.
Shipped via USPS: Renowned for their reliable and prompt service.
Delivered: Anticipate its arrival within 1-3 business days (excluding weekends and holidays).
We'll keep you in the loop with email updates at each stage!
Transparent Shipping Charges
Visible Costs: Shipping charges are displayed on product, cart, and checkout pages.

Note: We currently only ship within the United States. International shopper? Reach out to our Helpdesk for assistance!

Your Order's Journey

Order Confirmation: An email alert once your order is packed.
Shipping Confirmation: An update when it's handed to USPS.
In-Transit and Arrival Alerts: Emails to update you as your order makes its way to you.

Check Your Order's Status

On Our Website: Navigate to "My Account" > "Orders" for all details.
USPS Tracking: Use the provided tracking number on the USPS website.

Can't locate your package? Check with USPS or get in touch with our Helpdesk!

Note:

During high-demand periods, delivery times may slightly extend. Read Full Shipping Policy
Easy Refunds and Returns at MartX.us
30-Day Money Back Guarantee
Hassle-Free Returns: Not satisfied? Return products within 30 days of receipt.
Refund: Applicable for damaged/mismatched items (with photo evidence), customer remorse and for orders not received within 3 business days.
Secure Shopping, Secure Returns
Safe and Simple: Navigate returns easily with clear policies and dedicated support.
Customer Support: Our team is here to assist you through every step of your shopping journey.
Return Shipping Made Easy
We Cover Costs: For damaged or mismatched products, we bear the return shipping cost.
You Cover Costs: For customer remorse or errors, return shipping is your responsibility.
How to Return?
Initiate: Use our easy online forms for registered and guest users alike.
Detail the Issue: Provide photos and detailed descriptions.
Ship Back: Use our prepaid label or your own, depending on the situation.
Receive Your Refund or Exchange: Processed upon receiving the returned item.
Read Our Full Refund Policy for more details.
Buy with Confidence
Our Business Model
Unlock endless variety and enjoy prices that delight with our streamlined dropshipping approach. We cut out the middlemen and slash storage and transport costs to ensure you receive first-rate products without breaking the bank. Benefit from our partnership with a leading supplier, dedicated to upholding superior quality and ensuring punctual deliveries for every order.
Dedicated Support Team
When you shop at MartX.us, you're not alone. Our dedicated support team, is always ready to assist you promptly with any questions or assistance you may need.
30-Day Money Back Guarantee
We proudly offer a 30-day money-back guarantee with every order. If you're not completely satisfied, we're here to make it right.
Secure Shopping Environment
Shop with confidence, knowing that we provide a secure environment using the world's most trusted and popular payment methods. Your data is safe with us.

Repair Tape with Weatherproof Sealant