Optimize your home organization with Savar Round Bowls – a trio of eco-friendly, handwoven seagrass bowls. Embrace sustainable living and fair trade support.
Savar Round Bowls (Set of 3)
Declutter in Style with Organic Elegance
Let's face it; we could all use a bit more storage and organization. Tackle the clutter with panache using this set of three exquisite baskets. Crafted from organic woven seagrass, these Savar Round Bowls combine functionality with natural beauty. They're the perfect addition to homes of various styles, from cozy country cottages to timeless traditional interiors.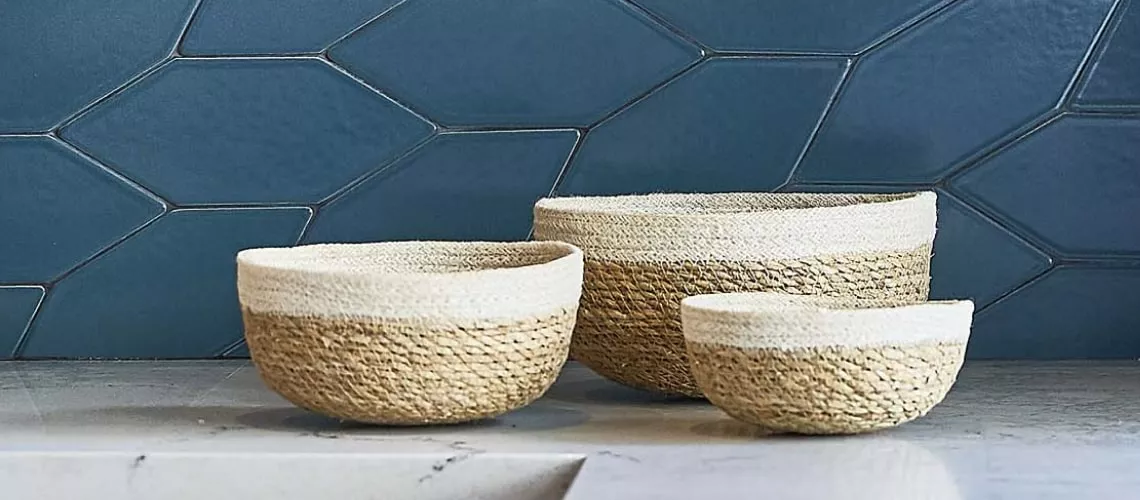 Supporting Fair Trade
Meaningful Purchases
Every basket we offer is a testament to fair trade. They are meticulously handwoven by artisans who receive fair wages without deductions for travel or childcare expenses. When you choose Savar Round Bowls, you're not just getting stylish storage; you're also supporting artisans in low-income communities and improving access to education and healthcare.
Sustainability & Eco-friendliness
Savar bowls are an eco-friendly, biodegradable, and recyclable storage solution, making them the ideal choice for environmentally conscious homes. They offer a sustainable alternative to plastic and paper bags.
Caring for Your Bowls
Maintain your bowls by regularly dusting or vacuuming them and wiping with a damp cloth when needed. After exposure to water, ensure thorough drying. Keep them away from direct sunlight to prevent color fading.
Elevate Home Organization
Smart Uses for Savar Round Bowls
Bathroom
Utilize these bowls to organize toiletries, keeping them neatly grouped together.
Living Room
Line your living room shelves or tuck them under furniture for stylish storage of books, magazines, DVDs, and entertainment essentials.
Kitchen
In the kitchen, these bowls are perfect for organizing pantry staples and kitchen supplies. Add labels for easy identification.
Entryway
Make a lasting impression in your entryway by using Savar bowls to store keys or gloves, keeping your space organized and inviting.
Savar Bowl Details
Material: 100% natural seagrass with jute trim
Color: White & Natural
Sizes: Large: 4.25" tall x 9.5" round; Medium: 3.5" tall x 8" round; Small: 2.75" tall x 6.25" round
Specification:
Savar Round Bowls
7 reviews for
Savar Round Bowls
Only logged in customers who have purchased this product may leave a review.
Quick Guide to Our Shipping
Step-by-Step to Your Doorstep:
Order Placed: Your order is swiftly sent to our California Fulfillment Center.
Packing & Checking: Items are carefully packed and undergo a meticulous final check.
Shipped via USPS: Renowned for their reliable and prompt service.
Delivered: Anticipate its arrival within 1-3 business days (excluding weekends and holidays).
We'll keep you in the loop with email updates at each stage!
Transparent Shipping Charges
Visible Costs: Shipping charges are displayed on product, cart, and checkout pages.

Note: We currently only ship within the United States. International shopper? Reach out to our Helpdesk for assistance!

Your Order's Journey

Order Confirmation: An email alert once your order is packed.
Shipping Confirmation: An update when it's handed to USPS.
In-Transit and Arrival Alerts: Emails to update you as your order makes its way to you.

Check Your Order's Status

On Our Website: Navigate to "My Account" > "Orders" for all details.
USPS Tracking: Use the provided tracking number on the USPS website.

Can't locate your package? Check with USPS or get in touch with our Helpdesk!

Note:

During high-demand periods, delivery times may slightly extend. Read Full Shipping Policy
Easy Refunds and Returns at MartX.us
30-Day Money Back Guarantee
Hassle-Free Returns: Not satisfied? Return products within 30 days of receipt.
Refund: Applicable for damaged/mismatched items (with photo evidence), customer remorse and for orders not received within 3 business days.
Secure Shopping, Secure Returns
Safe and Simple: Navigate returns easily with clear policies and dedicated support.
Customer Support: Our team is here to assist you through every step of your shopping journey.
Return Shipping Made Easy
We Cover Costs: For damaged or mismatched products, we bear the return shipping cost.
You Cover Costs: For customer remorse or errors, return shipping is your responsibility.
How to Return?
Initiate: Use our easy online forms for registered and guest users alike.
Detail the Issue: Provide photos and detailed descriptions.
Ship Back: Use our prepaid label or your own, depending on the situation.
Receive Your Refund or Exchange: Processed upon receiving the returned item.
Read Our Full Refund Policy for more details.
Buy with Confidence
Our Business Model
Unlock endless variety and enjoy prices that delight with our streamlined dropshipping approach. We cut out the middlemen and slash storage and transport costs to ensure you receive first-rate products without breaking the bank. Benefit from our partnership with a leading supplier, dedicated to upholding superior quality and ensuring punctual deliveries for every order.
Dedicated Support Team
When you shop at MartX.us, you're not alone. Our dedicated support team, is always ready to assist you promptly with any questions or assistance you may need.
30-Day Money Back Guarantee
We proudly offer a 30-day money-back guarantee with every order. If you're not completely satisfied, we're here to make it right.
Secure Shopping Environment
Shop with confidence, knowing that we provide a secure environment using the world's most trusted and popular payment methods. Your data is safe with us.