Description
Agora Bins
Your Eco-Friendly Storage Solution
Embrace a breezy, beach-house style with Agora Bins, your sustainable storage companions. Handcrafted from 100% jute, these baskets offer a natural, casual charm. Use them for plants, laundry, toys, or whatever suits your needs. Durable, eco-friendly, and designed to blend seamlessly with any decor, these bins are your answer to a clutter-free home.
Support Fair Trade
Purchase with Purpose
Each basket is a testament to fair trade practices. Crafted by skilled artisans, they receive fair wages without deductions for travel or childcare. Your purchase of handcrafted Agora Bins directly supports low-income communities, contributing to improved access to education and healthcare.
Greenify Your Space
Replace plastic planters and paper bags with these eco-friendly jute bins. They add a touch of handcrafted elegance to contemporary spaces and are perfect for organizing your closet, office, or pantry.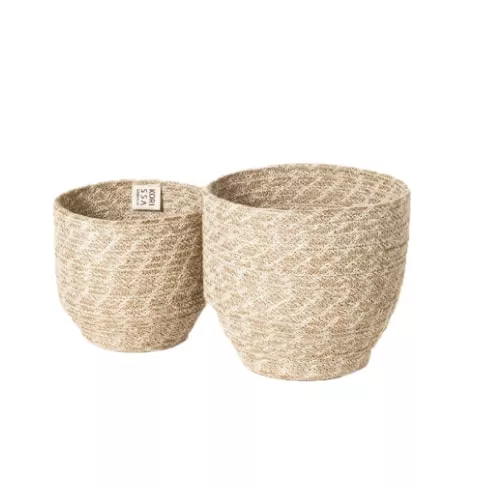 Care for Your Agora Bins
Maintain your baskets by regular dusting or vacuuming. For deeper cleaning, use a damp cloth. Ensure thorough drying if exposed to water and avoid direct sunlight to prevent color fading.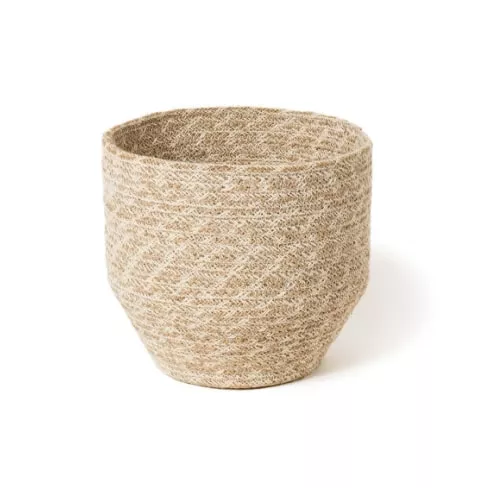 Why Agora Bins?
Features & Benefits
100% Eco-Friendly & Sustainable
Made from 100% natural jute, each bin is unique with slight variations in color and size due to handcrafting.
Multi-Functional Design
Agora Bins are versatile, serving as boho indoor planters, stylish storage solutions, and laundry companions.
Handmade & Durable
Crafted by skilled women within a Fair Trade program in Bangladesh, these bins are built to withstand the demands of your busy household.
Ideal for Any Interior
Agora Bins effortlessly complement various home decor styles, from rustic farmhouse to modern minimalistic.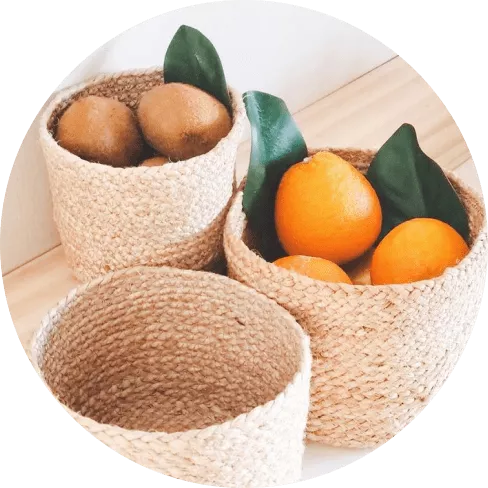 Agora Bins Details
– Color: Natural, White
– Approximate Size:
(Large) 7" tall x 8" round
(Small) 6" tall x 6.5" round
– Weight: 1.06 lb