Description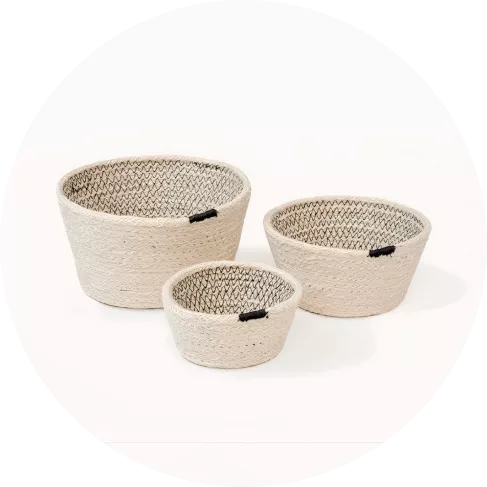 Amari Bowls (Set of 3)
Experience versatile storage solutions with our Amari Bowls. Handcrafted from 100% jute, these charming bowls are perfect for plants, laundry, toys, and more, adding a touch of rustic elegance to any space.
Why Choose Amari Bowls?
Elevate Your Home with a Boho Touch
Amari Bowls bring a touch of boho chic to your home decor, softening the ambiance and providing a stylish organization solution. Their earthy tones blend seamlessly with various interior styles.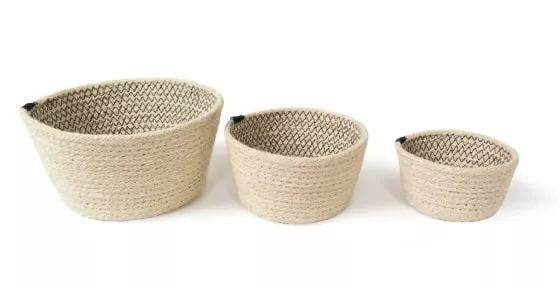 Perfect Size for Your Needs
Optimal Organization with Amari Bowls
These bowls come in three sizes to meet your organizational needs:
Large: 4.25" tall x 9.5" round
Medium: 3.5" tall x 8" round
Small: 2.75" tall x 6.25" round.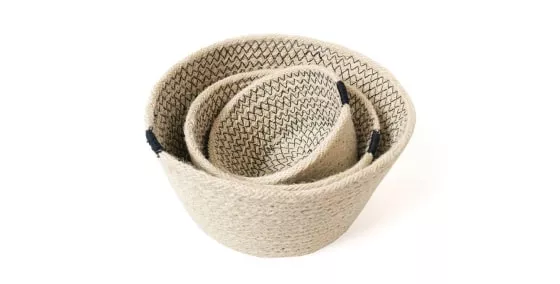 Enhance Your Home Organization
Creative Uses for Amari Bowls
Bathroom Storage
Utilize these bowls to organize toiletries, keeping small items together conveniently.
Plant Accessories
Amari Bowls are perfect for concealing ceramic pots and planters, adding style to your greenery.
Kids' Playroom
Create an organized space for your child's toys and books, making cleanup a breeze.
Living Room Organizer
Stash books, magazines, DVDs, and more in these stylish bowls to maintain a clutter-free living room.
Support Fair Trade
Every Amari Bowl is meticulously handwoven by skilled artisans who receive fair wages, ensuring that your purchase promotes fair trade and accessibility to education and healthcare in low-income communities.