Description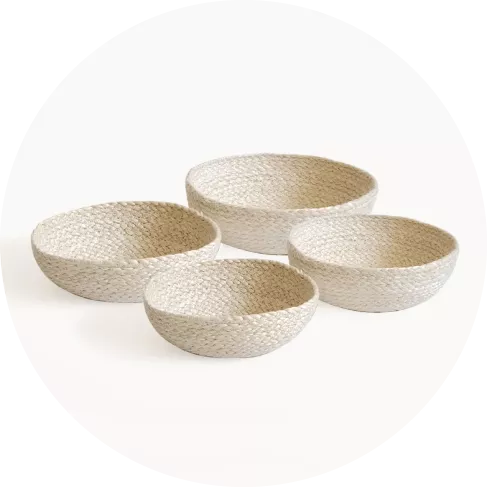 Discover Kata Candy Bowls
Charming, Functional, and Sustainable Homeware
Whether you're an avid entertainer or simply looking to enhance your home's organization, Kata Candy Bowls are the perfect addition. This set of four bowls is a versatile and stylish solution for serving snacks, displaying fruits, nuts, or other dry items, and adding a touch of elegance to your kitchen or living room.
Support Fair Trade
Your Purchase Makes a Difference
Each of our beautifully handwoven bowls is crafted by fair trade artisan partners who receive fair wages for their exceptional work. Your purchase contributes to their well-being by ensuring fair compensation, free from deductions for travel expenses or childcare. With Kata Candy Bowls, you not only elevate your home decor but also support artisans in low-income communities, improving access to education and healthcare.
Eco-Friendly and Sustainable
Kata Candy Bowls are crafted from 100% natural raw jute and colored with natural dyes. These charming homeware pieces reflect the refined skills passed down through generations of fair trade artisans.
Caring for Your Kata Candy Bowls
Maintaining the beauty and longevity of your bowls is simple. Regularly dust or vacuum them, and use a damp cloth if needed. After exposure to moisture, ensure thorough drying. Avoid direct sunlight to prevent color fading.
Elevate Your Home Organization
Creative Uses for Kata Candy Bowls
Bathroom Storage
Perfect for organizing toiletries and keeping essentials tidy.
Craft Supplies
Ideal for storing knitting and sewing supplies with style.
Kitchen & Dining
Use them for snacks, candies, bread, vegetables, fruits, or decorative items.
Entryway Organization
Create an inviting entryway with gloves, keys, and more neatly organized.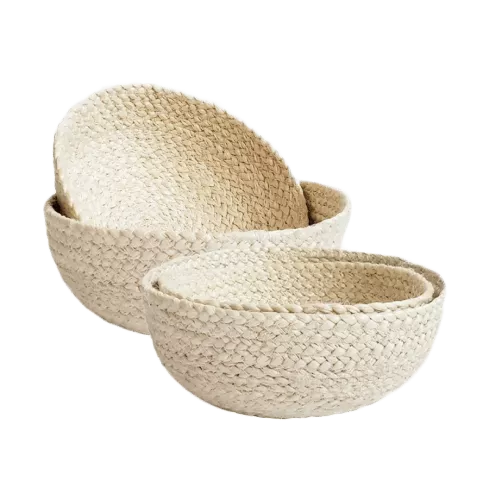 Kata Candy Bowl Details
Material: 100% natural jute
Color: White
Approximate Sizes: Extra Large: 4" tall x 9.5" round; Large: 3.5" tall x 8.5" round; Medium: 3" tall x 7.5" round; Small: 2.5" tall x 7" round.