Description
Embrace Convenience with the Ergonomic Shopping Trolley
Leave behind the hassle of juggling between a cart and recyclable bags during your grocery trips. The Ergonomic Shopping Trolley has arrived to revolutionize your shopping convenience. With the duality of a bag and cart, it aspires to transform your tedious grocery hauls into effortless tasks.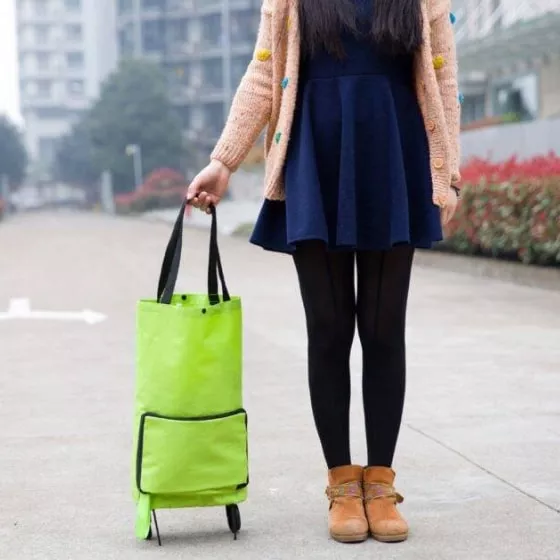 Your Dependable Shopping Companion
Crafted with an excellent blend of premium nylon fabric and PVC, the structural robustness of the Ergonomic Shopping Trolley does not falter over time. Primed with wheels, this unique trolley bag makes transportation effortless. Its waterproof and wear-resistant features ensure superior durability, making it resilient even to the heaviest grocery hauls, whilst also holding up flawlessly against the rain.
Ditch the Excess Plastic Bags
Using the Ergonomic Shopping Trolley, you can contribute positively to environmental well-being. Given its sturdy composition, you have the choice to lessen your bag consumption at the checkout counter. Safeguard all your foodstuffs and staples, excluding raw poultry and seafood, directly in this trolley bag.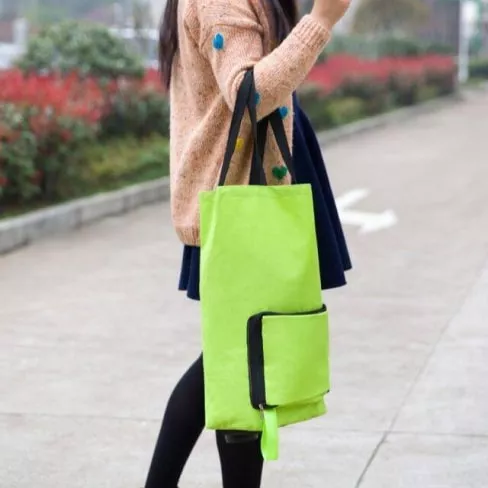 Adaptable for your Shopping Needs
The versatility of the Ergonomic Shopping Trolley is its shining feature. It adapts to your unique requirements, morphing between a bag and a trolley as per your convenience. Manageable loads can be carried as a bag while heavier ones can simply be pulled along by deploying the wheels in an instant.
Smooth Maneuvering with Built-in Wheels
This trolley bag includes two built-in 360-degree moving casters, which guarantee smooth and effortless transportation. These easily foldable wheels ensure seamless movement, aiding you from the store exit straight to your car trunk.
Compact Yet Capable Bearing Capacity
Don't let the compact design fool you – the Ergonomic Shopping Trolley is engineered to perform. Extended into trolley mode, it fits an impressive 18 x 16.1 inches worth of groceries. On folding into a carryable bag, it stays a manageable 12.6 x 16.1 inches in dimensions (L x W). Embrace shopping efficiency in a whole new light with the Ergonomic Shopping Trolley.