Description
Experience Less Irritation
Bid farewell to ingrown hairs and redness after shaving. Lumin Cooling Aftershave offers a soothing solution for your smoothest, cleanest shave, reducing post-shave discomfort.
Soothe and Calm Your Skin
For Healthier Grooming
Free from Irritants
Our aftershave is alcohol-free and enriched with moisturizing shea butter, along with soothing extracts like willow bark, rosa canina fruit, and cucumber, ensuring a gentle post-shave experience.
Effective in Small Amounts
A small application post-shave provides instant cooling and anti-inflammatory benefits, making your skin feel refreshed.
Strengthens and Reduces Puffiness
Experience the magic of relief for freshly-shaven skin, particularly in the chin and mustache area.
Lightweight and Non-Greasy
Lumin's fuss-free formulation ensures a lightweight, non-greasy application, maximizing both performance and comfort.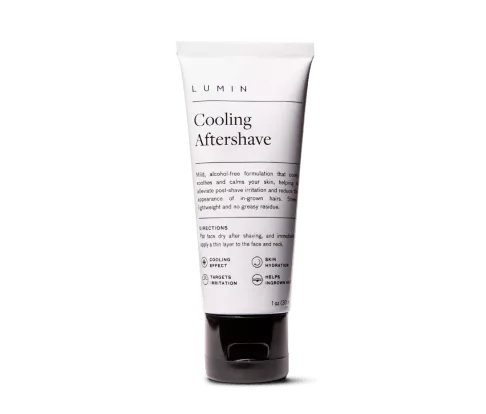 Stay Fresh All Day
Lumin Cooling Aftershave combines natural extracts with an invigorating fragrance, leaving you with a fresh scent that lasts throughout the day.
The Perfect Gift
Share the gift of high-performance grooming with someone in need. Lumin Cooling Aftershave is ideal for beginners and seasoned shavers alike.
Premium Care Designed for Men
Experience the Lumin Difference
Lumin takes pride in using quality ingredients that truly make a difference. Elevate your grooming routine with Lumin's skincare and haircare essentials, crafted with natural ingredients and refreshing, high-performance formulations for a more confident you.