Description
Discover the path to a tranquil night's rest
Tired of restless nights? Have you tried everything to stifle your partner's snoring, but the wolf-like howls persist? Snoring is no laughing matter and can rob you of peaceful sleep. Introducing our physician-recommended Anti-Snoring Device—a user-friendly solution designed for comfortable wear that effectively reduces snoring for the noisiest sleepers in your life.
Gentle and Comfortable for Wear
Constructed from ABS plastic and BPA-free, tasteless, odorless, medical-grade silicone, our Anti-Snoring Device is not only safe but also comfortable to wear. It's engineered to optimize airflow through your nasal passages, promptly curbing snoring, and fits comfortably in any adult nose. Finally, the sweet sound of silence awaits.
Advanced Respiratory Support
In addition to aligning your nasal passages for peaceful nights, this device features an innovative filtration system that also shields you from inhaling harmful gases. Inside our Anti-Snoring Device, you'll find a carbon-activated air filter and a sponge air filter, ensuring smooth airflow. Think of it as a nose-based air purifier while you slumber.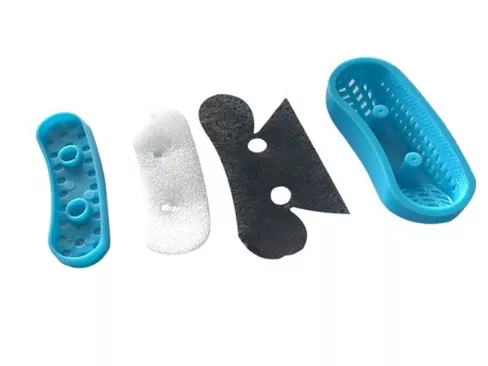 Compact and Feather-Light
Say goodbye to bulk and discomfort with our easy-to-use device. Measuring a mere 1.2 x 2 inches (W x L) and virtually weightless, it's a snore-reducing solution so unobtrusive that you'll hardly notice it while you enjoy a peaceful night's sleep.
User-Friendly Design
Experience relief today, whether you are the user or the thoughtful giver of this ingenious device.
Step 1
Prior to the first use, wash the device with water and allow it to dry.
Step 2
Hold the nose clip with the silicone part facing upward.
Step 3
Gently insert the silicone part into your nasal cavity.