In today's fast-paced world, the burden of carrying multiple devices can weigh us down. The constant struggle of managing a phone, power bank, earbuds, and a tangle of wires is all too familiar. Enter a game-changer that transforms your experience – the 2-in-1 Power Bank & Earbuds. This remarkable innovation seamlessly integrates essential functionalities, offering you unparalleled convenience without compromising on quality.
Remarkable simplicity
Your phone and earbuds will be charged at all times
Don't we all despise having to carry around a lot of stuff? A phone, a power bank, earbuds, various wires, and so on. These problems are dealt with by this two-in-one solution. A power bank with built-in headphones will save you space in your pocket while still giving you the convenience you've always desired.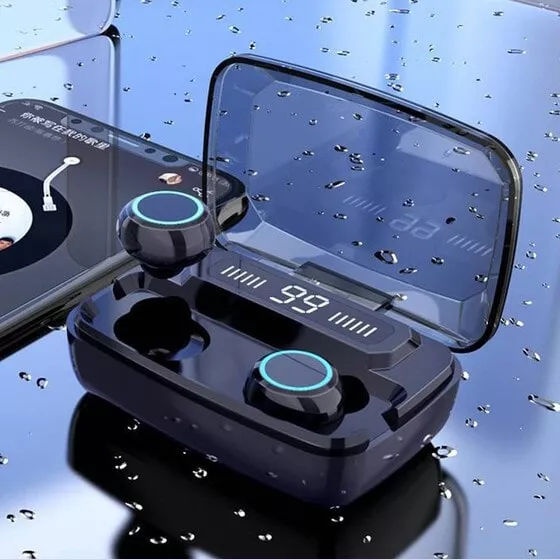 Make your life easier
This device will be an irreplaceable helper
Exceptional battery life
The 1500mAh battery gives you about 4-6 hours of continuous use and about 100 hours of standby time. Plug the cord in and the gadget will be fully charged in 2 hours!
Wonderful sound
Smart noise reduction system and graphene diaphragm make the sound of impeccable quality. Every single listening will bring you a ton of joy.
IPX6 water resistance
The water resistance system makes the earbuds withstand water impacts like rain and sweat (when working out). But don't put them in the water!
Control buttons
With a simple touch of the earbuds' buttons, you can accept or decline calls, control the music, and activate the voice assistant. Enjoy the benefits of the freedom that wireless technologies offer!
Save your peace and space
This multifunctional device will be a fantastic addition to your daily life. Charge your gadgets and listen to music whenever and wherever you please. It will take up no room in your backpack or pocket. However, it will surely take up some room in your heart.
Key Features 2-in-1 Power Bank & Earbuds
Integrated Convenience: Merge power bank and earbuds seamlessly for a clutter-free lifestyle.
Efficient Charging: Keep your devices and earbuds powered throughout the day.
Extended Battery Life: Enjoy up to 6 hours of use and 100 hours of standby time.
Immersive Sound: Experience unparalleled audio quality with noise reduction and graphene diaphragms.
Water Resistant: Designed to endure rain and sweat (IPX6 rated) for active lifestyles.
Intuitive Controls: Manage calls, music, and voice assistants with simple touch controls.
Wireless Freedom: Free yourself from tangles with wireless earbuds and charging.
Space-Saving Design: Travel light with a single device for multiple functionalities.
Versatile Connectivity: Connect and charge gadgets while enjoying your favorite tunes.
Aesthetic Appeal: Harmonize technology and style in a sleek and appealing device.
Embrace the evolution of convenience and innovation with the 2-in-1 Power Bank & Earbuds. This remarkable creation liberates you from the burden of multiple devices, offering seamless integration and uncompromising quality. Stay connected and charged on the go, relishing the immersive sound that only cutting-edge technology can provide. With its water-resistant build and intuitive controls, it's a companion for all situations. Experience the joy of wireless freedom, all while saving space and enhancing your daily experiences. Elevate your expectations and make room for this versatile marvel in your heart and your pocket – the 2-in-1 Power Bank & Earbuds is your gateway to a redefined lifestyle.
Experience the future today – simplify your life with the 2-in-1 Power Bank & Earbuds. Elevate your convenience, immerse in exceptional sound, and embrace the ultimate wireless freedom. Don't miss out, get yours now and revolutionize the way you connect and power up!
Quick Guide to Our Shipping
Step-by-Step to Your Doorstep:
Order Placed: Your order is swiftly sent to our California Fulfillment Center.
Packing & Checking: Items are carefully packed and undergo a meticulous final check.
Shipped via USPS: Renowned for their reliable and prompt service.
Delivered: Anticipate its arrival within 1-3 business days (excluding weekends and holidays).
We'll keep you in the loop with email updates at each stage!
Transparent Shipping Charges
Visible Costs: Shipping charges are displayed on product, cart, and checkout pages.

Note: We currently only ship within the United States. International shopper? Reach out to our Helpdesk for assistance!

Your Order's Journey

Order Confirmation: An email alert once your order is packed.
Shipping Confirmation: An update when it's handed to USPS.
In-Transit and Arrival Alerts: Emails to update you as your order makes its way to you.

Check Your Order's Status

On Our Website: Navigate to "My Account" > "Orders" for all details.
USPS Tracking: Use the provided tracking number on the USPS website.

Can't locate your package? Check with USPS or get in touch with our Helpdesk!

Note:

During high-demand periods, delivery times may slightly extend. Read Full Shipping Policy
Easy Refunds and Returns at MartX.us
30-Day Money Back Guarantee
Hassle-Free Returns: Not satisfied? Return products within 30 days of receipt.
Refund: Applicable for damaged/mismatched items (with photo evidence), customer remorse and for orders not received within 3 business days.
Secure Shopping, Secure Returns
Safe and Simple: Navigate returns easily with clear policies and dedicated support.
Customer Support: Our team is here to assist you through every step of your shopping journey.
Return Shipping Made Easy
We Cover Costs: For damaged or mismatched products, we bear the return shipping cost.
You Cover Costs: For customer remorse or errors, return shipping is your responsibility.
How to Return?
Initiate: Use our easy online forms for registered and guest users alike.
Detail the Issue: Provide photos and detailed descriptions.
Ship Back: Use our prepaid label or your own, depending on the situation.
Receive Your Refund or Exchange: Processed upon receiving the returned item.
Read Our Full Refund Policy for more details.
Buy with Confidence
Our Business Model
Unlock endless variety and enjoy prices that delight with our streamlined dropshipping approach. We cut out the middlemen and slash storage and transport costs to ensure you receive first-rate products without breaking the bank. Benefit from our partnership with a leading supplier, dedicated to upholding superior quality and ensuring punctual deliveries for every order.
Dedicated Support Team
When you shop at MartX.us, you're not alone. Our dedicated support team, is always ready to assist you promptly with any questions or assistance you may need.
30-Day Money Back Guarantee
We proudly offer a 30-day money-back guarantee with every order. If you're not completely satisfied, we're here to make it right.
Secure Shopping Environment
Shop with confidence, knowing that we provide a secure environment using the world's most trusted and popular payment methods. Your data is safe with us.