Portable Bluetooth Speaker – Non-Stop Play with Waterproof Design
What if your music could break free from the confines of headphones and speakers, following you wherever you go? Picture a device that not only fills your world with immersive sound but also defies the limits of traditional connectivity. The answer lies in our groundbreaking Bluetooth Portable Speaker – a gateway to a new realm of auditory experiences. But what sets it apart? What secrets does it hold to amplify your moments? Prepare to discover the power of uninterrupted entertainment, the magic of versatile music sources, and a design that's as rugged as your adventures. As we unveil the mysteries that this speaker beholds, get ready to redefine how you experience sound. Your journey to sonic exploration begins now.
The music and
sound you love.
Everywhere you go.
Keep the party in motion. Stay in touch with the world. Our handy Bluetooth Portable Speaker helps you stay connected with friends and family through clear, crisp sound that connects to any Bluetooth-powered device.
Three hours of
non-stop play
When fully-charged, get up to three hours of sound support, whether you're blasting your favorite tunes or connecting sound for a movie.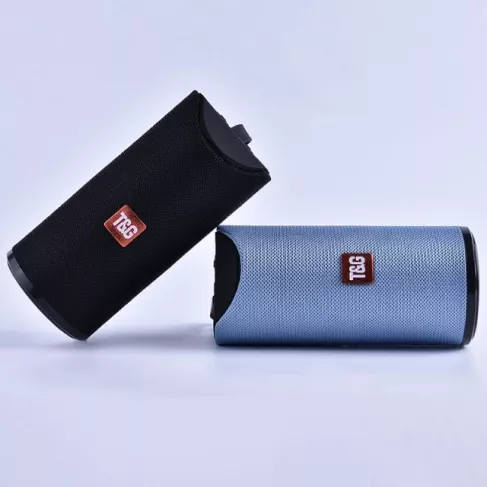 Flexible play for everyone
Memory card support, AUX playback, and more
Not using Bluetooth? Our Bluetooth Portable Speaker also supports micro SD cards and USBs, in addition to iPod and mp3 players supported by AUX cable. And when you're tired of your own music, switch to FM radio to let a station play its picks.
Waterproof for weatherproof fun
Whether you're outside on a cool, overcast day or lounging out by the pool, our speaker plays fine with water thanks to an IPX 6-class waterproof rating. Note this rating does not mean the speaker can be submerged in water; it just means it is protected from high-pressure streams of water from multiple angles.
Charge via USB
The party (or movie) comes to life thanks to a built-in lithium battery, chargeable by USB cord anywhere. From your laptop to portable power bank to wall charger, power up wherever.
Sturdy mesh +
silicone build
The exterior of the speaker is covered in cloth mesh that is wear- and water-resistant. A smooth plastic base adds support while the control pad is protected with smooth silicone.
Plays all file types
for your music
When you connect your music via memory card or music player, the player supports MP3, AV, APE, and FLAC file types.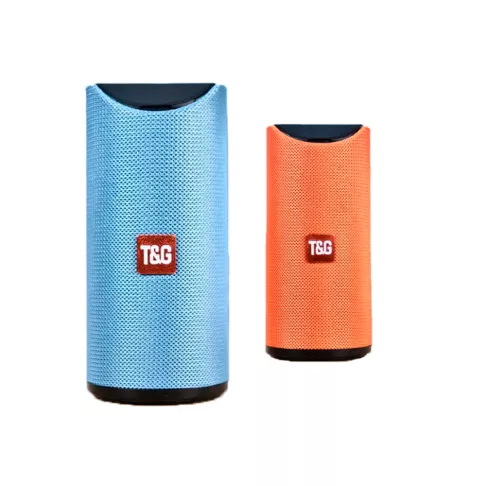 Sized for easy,
on-the-go portability
Measuring just 6.3 x 3 x 3 inches (L x W x H) and weighing just 1.12 pounds, this Bluetooth Portable Speaker can go anywhere with you for burden-free use. Plus, a hook is built into the silicone keypad atop the speaker for greater carrying convenience (just clip onto your backpack or daytrip bag!).
Everything you'll need
Our speaker comes with necessities to help you stay entertained conveniently. Each purchase includes:
One (1) USB charging cord
One (1) AUX cord
A user manual
Quick Guide to Our Shipping
Step-by-Step to Your Doorstep:
Order Placed: Your order is swiftly sent to our California Fulfillment Center.
Packing & Checking: Items are carefully packed and undergo a meticulous final check.
Shipped via USPS: Renowned for their reliable and prompt service.
Delivered: Anticipate its arrival within 1-3 business days (excluding weekends and holidays).
We'll keep you in the loop with email updates at each stage!
Transparent Shipping Charges
Visible Costs: Shipping charges are displayed on product, cart, and checkout pages.

Note: We currently only ship within the United States. International shopper? Reach out to our Helpdesk for assistance!

Your Order's Journey

Order Confirmation: An email alert once your order is packed.
Shipping Confirmation: An update when it's handed to USPS.
In-Transit and Arrival Alerts: Emails to update you as your order makes its way to you.

Check Your Order's Status

On Our Website: Navigate to "My Account" > "Orders" for all details.
USPS Tracking: Use the provided tracking number on the USPS website.

Can't locate your package? Check with USPS or get in touch with our Helpdesk!

Note:

During high-demand periods, delivery times may slightly extend. Read Full Shipping Policy
Easy Refunds and Returns at MartX.us
30-Day Money Back Guarantee
Hassle-Free Returns: Not satisfied? Return products within 30 days of receipt.
Refund: Applicable for damaged/mismatched items (with photo evidence), customer remorse and for orders not received within 3 business days.
Secure Shopping, Secure Returns
Safe and Simple: Navigate returns easily with clear policies and dedicated support.
Customer Support: Our team is here to assist you through every step of your shopping journey.
Return Shipping Made Easy
We Cover Costs: For damaged or mismatched products, we bear the return shipping cost.
You Cover Costs: For customer remorse or errors, return shipping is your responsibility.
How to Return?
Initiate: Use our easy online forms for registered and guest users alike.
Detail the Issue: Provide photos and detailed descriptions.
Ship Back: Use our prepaid label or your own, depending on the situation.
Receive Your Refund or Exchange: Processed upon receiving the returned item.
Read Our Full Refund Policy for more details.
Buy with Confidence
Our Business Model
Unlock endless variety and enjoy prices that delight with our streamlined dropshipping approach. We cut out the middlemen and slash storage and transport costs to ensure you receive first-rate products without breaking the bank. Benefit from our partnership with a leading supplier, dedicated to upholding superior quality and ensuring punctual deliveries for every order.
Dedicated Support Team
When you shop at MartX.us, you're not alone. Our dedicated support team, is always ready to assist you promptly with any questions or assistance you may need.
30-Day Money Back Guarantee
We proudly offer a 30-day money-back guarantee with every order. If you're not completely satisfied, we're here to make it right.
Secure Shopping Environment
Shop with confidence, knowing that we provide a secure environment using the world's most trusted and popular payment methods. Your data is safe with us.
Portable Bluetooth Speaker – Non-Stop Play with Waterproof Design