Description
Monitor your home, office, or personal space without drawing attention. Our Panoramic Security Bulb Camera is designed to blend seamlessly into your environment. It features a standard E27 base, allowing you to screw it into any lamp or lighting fixture, providing inconspicuous surveillance. Moreover, this versatile bulb also emits LED light from its center strip.
Wireless Connectivity, Remote Monitoring
Stay connected via WiFi and our dedicated mobile app. Download the app for iOS or Android to access live video feeds, giving you the ability to monitor your space anytime, anywhere. With 24/7 surveillance, our bulb camera functions as your personal security guard, offering peace of mind even when you're away.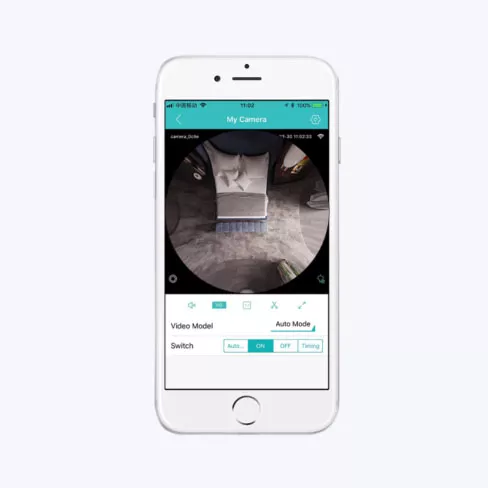 360-Degree Surveillance
Our fisheye lens provides a 360-degree view, capturing every corner of your space. It records in 25 frames per second for exceptional clarity. Choose from five camera modes, including panoramic view, various angles, and split-screen options, ensuring comprehensive coverage. Whether you need a living room cam, nanny cam, or office security, our compact camera has you covered.
Panoramic Security Bulb Camera
Effortless Video Storage
Our bulb supports 32GB, 64GB, or 128GB TF cards for video storage (card not included).
Convenient Video Access
Insert a TF card into the bulb to access archived videos through the mobile app from anywhere.
Enhanced Security and Interactivity
Our camera features end-to-end encryption for maximum privacy. You can also set an individual password for added security. Plus, enjoy two-way communication with the built-in speaker and microphone, allowing you to interact with your space remotely.
Simple Installation
Our bulb camera includes a 3M adhesive pad for easy, tool-free installation on any wall.