Description
A Luxurious Unisex Jewelry Piece
Unleash the Sparkle within You
Lock-inspired jewelry has a rich history, once symbolizing the unbreakable bond between lovers in the eras of the Georgians and Victorians. However, symbols are diverse, and their meanings can vary. Whether you appreciate the symbolism or simply adore its aesthetics, this pendant is a remarkable accessory suitable for all individuals.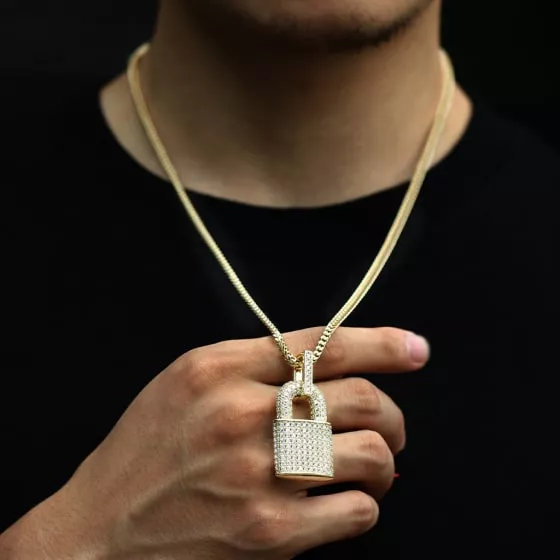 Lock in Your Style!
A Chic Pendant for Moments that Demand Radiance
Crafted from Exceptional Materials
This pendant is meticulously crafted from durable brass with a luxurious golden hue. Adorned with 5A zirconia stones, it exudes an immaculate shine that captivates.
Care Instructions
To keep it in top condition, ensure it stays dry. Avoid submerging it in water, and if it becomes dirty, gently clean it with alcohol and wear gloves.
Perfect Dimensions
Measuring 1.37×1.18 inches, this pendant complements any outfit without overpowering your overall look. It adds a touch of elegance to your style.
Radiant Aesthetics
The exquisite interplay between the stones and the golden foundation creates a mesmerizing visual spectacle. This pendant sparkles brilliantly in the light!
Why Settle for Ordinary When You Can Shine?
If you're looking to add a dash of sophistication and radiance to your style, this pendant is perfect for you. Its captivating allure will keep all eyes on you, and you won't want to look away. Enjoy the spotlight!