Description
A touch of hip & fresh
Add simple boho-cool flair to your car interior while also throwing in a pop of fresh with this Scented Orange Feather Charm.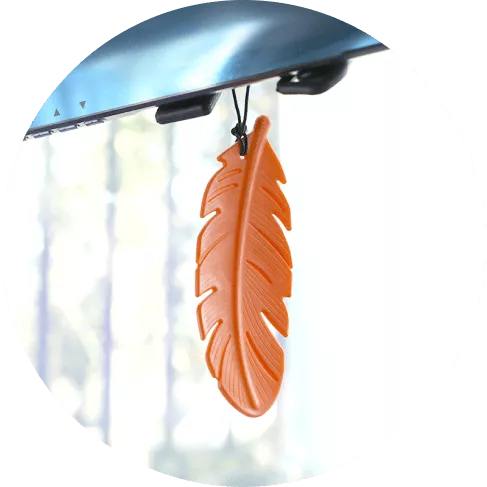 A charming gift
A peaceful gem
Over a month of freshness
Our feather provides up to 45 days of its crisp lemony scent.
Orange you glad
The bright orange hue of this feather adds a pop of cheery color to your car interior.
Find your zen
Feathers are symbols of freedom and calm, so our Scented Orange Feather Charm just adds that boost of peace wherever you place it.
Sturdy build
Our feather is crafted from smooth ABS plastic for a long-lasting accessory that won't wilt or wither under long-term sunlight.
Decor meets function
Discover a smoother, saner driving (and riding) experience with this Scented Orange Feather Charm.
Amid the hustle and bustle of daily life, finding moments of solace becomes invaluable. The Scented Orange Feather Charm offers you the opportunity to create those moments every time you step into your car. With its scented essence and vibrant hue, the charm redefines your driving space, making it a sanctuary of calmness and contentment.
Don't wait any longer – place your order now and experience the captivating charm of the Scented Orange Feather Charm. Elevate your driving space, infuse it with an invigorating scent, and enjoy the visual appeal of vibrant color. With a simple click, you can embark on a journey of enhanced driving pleasure. Add this accessory to your cart and let the transformation begin.