Sleek Round Metal Air Freshener
A sleek, modern look meets essential help
Say adieu to nagging, undesirable odors in your car, and welcome a ride filled with refreshing fragrances. Enter the realm of invigorating automobile freshness with our Round Flat Metal Air Freshener. This sleek, compact freshener combines modern design and essential function, ensuring your journey remains refreshing for miles and miles.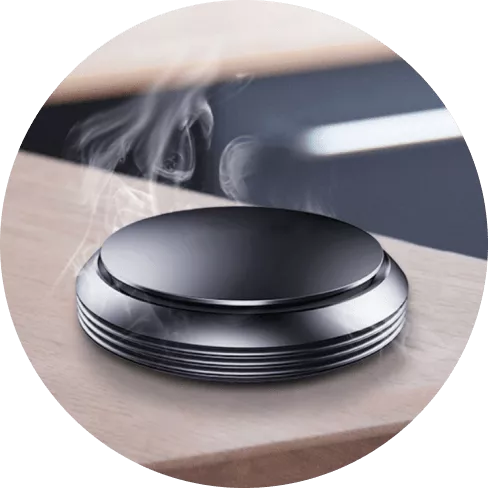 Minimalistic Charm, Maximum Fragrance Impact
(Stay fresh for miles)
Simple + easy
The Round Flat Metal Air Freshener's design is an exquisite blend of simplicity and contemporary aesthetics. The rounded, streamlined structure easily blends into any car interior decor, providing an unobtrusive, yet stylish addition to mark your personal spaces.
Ease of Installation with Sticky-bottom Base
The hassle-free sticky bottom base allows for easy installation. Place it anywhere on your car's dashboard, shaping your vehicle's ambiance as per your preference. The non-obtrusive, compact size assures it doesn't interfere with your driving or the car's aesthetic appeal.
Personalized Aroma Intensity
Take control of your car's aroma environment. The product includes a dial for fragrance control; turning clockwise enhances the scent intensity while turning counter-clockwise diminishes it. Adapt to your mood or preferences and create the perfect sensory blend for your drives.
Enduring Scent Dispersion
The Round Flat Metal Air Freshener's scent power comes from a robust solid tablet, unlike traditional fresheners that rely on pre-scented fragrance sticks. This innovative design ensures a long-lasting, consistent fragrance release, breathing life into your car's environment even during long rides.
Transform Your Car into a Paradise of Fragrance with The Round Flat Metal Air Freshener
No experience parallels the displeasure of traveling in a musty car. Take a stance against disagreeable smells and transform the atmosphere of your vehicle. Install this Round Flat Metal Air Freshener, roll down the windows, and feel the difference as it works in harmony with your car's A/C. Unleash a cascade of refreshing scents, enhancing every ride you take.
Breathe fresh, drive fresh; the Round Flat Metal Air Freshener is an essential for every car owner seeking the perfect olfactory experience.
6 reviews for
Sleek Round Metal Air Freshener
Only logged in customers who have purchased this product may leave a review.
Quick Guide to Our Shipping
Step-by-Step to Your Doorstep:
Order Placed: Your order is swiftly sent to our California Fulfillment Center.
Packing & Checking: Items are carefully packed and undergo a meticulous final check.
Shipped via USPS: Renowned for their reliable and prompt service.
Delivered: Anticipate its arrival within 1-3 business days (excluding weekends and holidays).
We'll keep you in the loop with email updates at each stage!
Transparent Shipping Charges
Visible Costs: Shipping charges are displayed on product, cart, and checkout pages.

Note: We currently only ship within the United States. International shopper? Reach out to our Helpdesk for assistance!

Your Order's Journey

Order Confirmation: An email alert once your order is packed.
Shipping Confirmation: An update when it's handed to USPS.
In-Transit and Arrival Alerts: Emails to update you as your order makes its way to you.

Check Your Order's Status

On Our Website: Navigate to "My Account" > "Orders" for all details.
USPS Tracking: Use the provided tracking number on the USPS website.

Can't locate your package? Check with USPS or get in touch with our Helpdesk!

Note:

During high-demand periods, delivery times may slightly extend. Read Full Shipping Policy
Easy Refunds and Returns at MartX.us
30-Day Money Back Guarantee
Hassle-Free Returns: Not satisfied? Return products within 30 days of receipt.
Refund: Applicable for damaged/mismatched items (with photo evidence), customer remorse and for orders not received within 3 business days.
Secure Shopping, Secure Returns
Safe and Simple: Navigate returns easily with clear policies and dedicated support.
Customer Support: Our team is here to assist you through every step of your shopping journey.
Return Shipping Made Easy
We Cover Costs: For damaged or mismatched products, we bear the return shipping cost.
You Cover Costs: For customer remorse or errors, return shipping is your responsibility.
How to Return?
Initiate: Use our easy online forms for registered and guest users alike.
Detail the Issue: Provide photos and detailed descriptions.
Ship Back: Use our prepaid label or your own, depending on the situation.
Receive Your Refund or Exchange: Processed upon receiving the returned item.
Read Our Full Refund Policy for more details.
Buy with Confidence
Our Business Model
Unlock endless variety and enjoy prices that delight with our streamlined dropshipping approach. We cut out the middlemen and slash storage and transport costs to ensure you receive first-rate products without breaking the bank. Benefit from our partnership with a leading supplier, dedicated to upholding superior quality and ensuring punctual deliveries for every order.
Dedicated Support Team
When you shop at MartX.us, you're not alone. Our dedicated support team, is always ready to assist you promptly with any questions or assistance you may need.
30-Day Money Back Guarantee
We proudly offer a 30-day money-back guarantee with every order. If you're not completely satisfied, we're here to make it right.
Secure Shopping Environment
Shop with confidence, knowing that we provide a secure environment using the world's most trusted and popular payment methods. Your data is safe with us.

Sleek Round Metal Air Freshener