Description
Sleek, futuristic style
There's no bulk required to freshen up your car's interior. Our Sleek Air Vent Air Freshener brings you a card-size-slim solution that fits discreetly for smart design and function.
Hit refresh
Reinvigorate
Go any way
Situate the freshener vertically or horizontally (depending on your air vent design) effortlessly.
Designed to delight
Six release outlets enrich your car interior with the captivating cologne scent (built into the device).
Slim in size
This Sleek Air Vent Air Freshener measures 3" in width and is just 0.3" in depth, proving its truly slim dimensions.
Nasties, be gone
Still catching a whiff of last night's leftovers you took home? Still able to smell the stench of that week-old trash left in your car? Blast the bad smells away with this sleek but powerful refresher.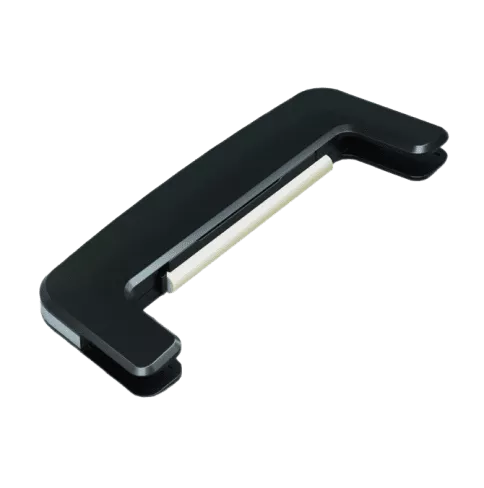 A beautiful, modern piece
It's as artistic as it is functional. Let this air freshener brighten up anyone's car for a more relaxing environment.
1. Futuristic Elegance
1.1 Seamless Integration
Immerse yourself in the perfect fusion of innovation and aesthetics. The Sleek Air Vent Air Freshener seamlessly integrates with your car's interior, attaching effortlessly to your air vents. This intelligent design ensures a clutter-free dashboard while adding a touch of modern sophistication to your driving environment.
1.2 Enhanced Aesthetics
Elevate your car's interior to a realm of refined beauty. This air freshener isn't just a functional accessory; it's a statement piece. Its sleek contours and contemporary design enhance the overall aesthetics of your vehicle. Imbue your car with an air of sophistication that matches your discerning taste.
1.3 Space-Saving Design
Embrace the future of freshness without sacrificing space. The Sleek Air Vent Air Freshener boasts a slim design reminiscent of a credit card, blending seamlessly into your car's architecture. Bid farewell to bulky distractions and welcome a device that not only refreshes your driving space but also maximizes your car's interior real estate.
2. Captivating Fragrance
2.1 Delightful Aroma
Engage your senses in a symphony of captivating fragrances. The Sleek Air Vent Air Freshener doesn't merely mask odors; it introduces you to a world of delightful scents that make every drive a sensory delight. Whether it's a short commute or a long road trip, this air freshener envelopes you in an aura of inviting aroma, turning mundane moments into cherished experiences.
2.2 Even Scent Distribution
Bid farewell to uneven fragrance circulation. With six strategically positioned release outlets, our air freshener ensures that its enchanting scent permeates every nook and cranny of your car's interior. Revel in a consistent and comprehensive fragrance that awakens your senses and establishes a serene atmosphere throughout your vehicle.
2.3 Aromatic Atmosphere
Picture stepping into your car and being embraced by a captivating scent. The Sleek Air Vent Air Freshener transforms your car into a sanctuary of relaxation. Whether you crave an invigorating burst of energy or a tranquil retreat, its aromatic ambiance adapts to your mood, infusing every journey with sensory pleasure. Immerse yourself in the luxury of a thoughtfully scented driving environment that lingers long after your travels.
3. Versatile Placement
3.1 Adaptable Orientation
Experience the freedom of choice when it comes to refreshing your car's interior. Our Sleek Air Vent Air Freshener offers adaptable orientation, allowing you to position it vertically or horizontally based on your air vent design. No matter the configuration, it effortlessly fits, ensuring you have full control over the placement for maximum convenience.
3.2 Effortless Adjustments
Say goodbye to complicated setups. Adjusting the Sleek Air Vent Air Freshener is a breeze. Effortlessly switch between orientations to find the perfect angle that suits your preference. With its user-friendly design, making adjustments is intuitive and hassle-free, ensuring that the delightful fragrance is directed exactly where you want it.
3.3 Tailored to Your Vent
No two car vents are the same, and that's why our air freshener is designed for versatility. It adapts to your vent's specifications, ensuring a snug fit that stays secure as you drive. Enjoy the confidence of a tailored solution that enhances both your driving experience and the ambiance of your car's interior.
4. Revitalize Your Drive
4.1 Invigorating Experience
Turn every drive into an invigorating experience that awakens your senses. The Sleek Air Vent Air Freshener doesn't just freshen the air; it revitalizes your entire journey. Feel the burst of energy as the captivating fragrance envelops you, turning even the most routine commutes into moments of excitement.
4.2 Refreshing Journeys
Bid farewell to stale and stagnant air. With the Sleek Air Vent Air Freshener, each journey becomes a breath of fresh air. The carefully curated scents infuse your car with a refreshing ambiance that uplifts your mood and rejuvenates your spirit. Say hello to revitalizing drives that make you look forward to hitting the road.
4.3 Elevated Driving Pleasure
Transform driving from a necessity into a pleasure. The Sleek Air Vent Air Freshener takes your driving experience to new heights. The combination of its captivating fragrance and modern design creates an atmosphere of sophistication and comfort. Elevate your time behind the wheel with a sensory journey that indulges your senses and makes every drive a memorable one.
5.2 Fresh Cabin Environment
Step into a world of freshness with every drive. The Sleek Air Vent Air Freshener infuses your car with a refreshing atmosphere that welcomes you each time you open the door. Enjoy the luxury of a clean and revitalized cabin that creates a delightful space, whether you're running errands or embarking on a grand adventure.
5.3 Lasting Fragrance
Embrace a lasting allure that accompanies you throughout your journey. Our air freshener's carefully crafted fragrance lingers, ensuring that the captivating scent doesn't fade away too quickly. Revel in the enduring charm of a well-scented interior that maintains its allure mile after mile.
6. Artistic Enhancement & Long-Lasting Fragrance
6.1 Visual Appeal and Modern Charm
Add an artistic touch to your car's interior with our Sleek Air Vent Air Freshener. Its modern charm and sleek design make it not only a functional accessory but also an artistic enhancement. Elevate your car's aesthetics while indulging in the pleasure of a consistently captivating scent that complements the visual appeal.
6.2 Consistently Captivating Scent
Relish in the constancy of a captivating fragrance experience. Our air freshener doesn't just release a burst of scent; it consistently diffuses a delightful aroma that fills your car with a pleasant ambiance. Say goodbye to sudden drops in fragrance intensity and enjoy an atmosphere that's consistently soothing and inviting.
6.3 Refillable Convenience
Savor the convenience of a refillable companion. The Sleek Air Vent Air Freshener is designed with your ease in mind. When the fragrance starts to wane, simply refill it with your favorite scent to keep the captivating experience alive. Embrace a sustainable and convenient solution that ensures your car always smells as good as it looks.
In the realm of automotive freshness, the Sleek Air Vent Air Freshener emerges as a trailblazer, seamlessly integrating futuristic elegance into your driving experience. With adaptable orientations for versatile placement and effortless adjustments, it tailors itself to your car's unique vent design, banishing unwanted odors and infusing a lasting fragrance that revitalizes every journey. Beyond its practicality, it elevates aesthetics with modern charm, consistently delivering captivating scents that turn your car into a sensory haven. Refillable convenience ensures the allure remains enduring. Say farewell to mundane drives as this innovative air freshener redefines style, ambiance, and the very essence of automotive luxury.
FAQs about Sleek Air Vent Air Freshener
How does the Sleek Air Vent Air Freshener stand out?
The Sleek Air Vent Air Freshener stands out due to its futuristic style and slim design, allowing it to seamlessly integrate into your car's interior without any bulk. It's a card-size-slim solution that not only brings a smart design but also efficiently freshens up your driving space.
Can I adjust the orientation of the air freshener?
Absolutely! You have the freedom to position the air freshener vertically or horizontally, depending on your air vent design. Adjusting the orientation is effortless, ensuring a seamless fit into your car's vent system.
How does the air freshener release its fragrance?
Designed to delight your senses, this air freshener features six release outlets that distribute the captivating cologne scent throughout your car's interior. This ensures even and consistent fragrance distribution, enveloping your surroundings in an alluring aroma.
What are the dimensions of the Sleek Air Vent Air Freshener?
This air freshener boasts a slim profile, measuring just 3" in width and 0.3" in depth. Its compact size ensures it doesn't occupy much space while providing powerful freshness.
How effective is the Sleek Air Vent Air Freshener in eliminating odors?
The Sleek Air Vent Air Freshener is a powerful refresher that effectively eliminates unwanted odors. Whether it's last night's leftovers or week-old trash, this sleek device can blast away bad smells, leaving your car's interior smelling clean and inviting.
Does the air freshener serve an aesthetic purpose as well?
Absolutely! Beyond its functional benefits, the Sleek Air Vent Air Freshener is designed to enhance the aesthetics of your car's interior. It serves as a beautiful, modern piece that adds an artistic touch, creating a more relaxing and visually appealing driving environment.