Description
A sleek, modern look meets essential help
Say adieu to nagging, undesirable odors in your car, and welcome a ride filled with refreshing fragrances. Enter the realm of invigorating automobile freshness with our Round Flat Metal Air Freshener. This sleek, compact freshener combines modern design and essential function, ensuring your journey remains refreshing for miles and miles.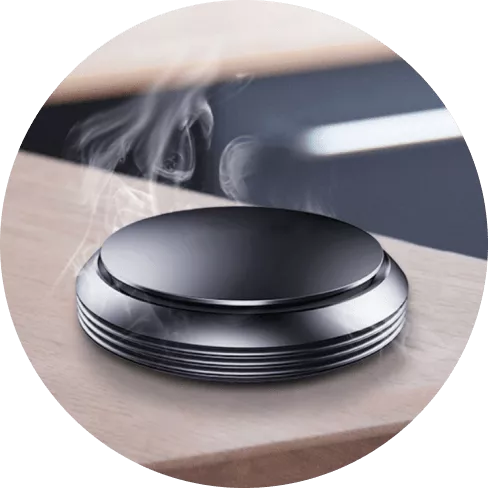 Minimalistic Charm, Maximum Fragrance Impact
(Stay fresh for miles)
Simple + easy
The Round Flat Metal Air Freshener's design is an exquisite blend of simplicity and contemporary aesthetics. The rounded, streamlined structure easily blends into any car interior decor, providing an unobtrusive, yet stylish addition to mark your personal spaces.
Ease of Installation with Sticky-bottom Base
The hassle-free sticky bottom base allows for easy installation. Place it anywhere on your car's dashboard, shaping your vehicle's ambiance as per your preference. The non-obtrusive, compact size assures it doesn't interfere with your driving or the car's aesthetic appeal.
Personalized Aroma Intensity
Take control of your car's aroma environment. The product includes a dial for fragrance control; turning clockwise enhances the scent intensity while turning counter-clockwise diminishes it. Adapt to your mood or preferences and create the perfect sensory blend for your drives.
Enduring Scent Dispersion
The Round Flat Metal Air Freshener's scent power comes from a robust solid tablet, unlike traditional fresheners that rely on pre-scented fragrance sticks. This innovative design ensures a long-lasting, consistent fragrance release, breathing life into your car's environment even during long rides.
Transform Your Car into a Paradise of Fragrance with The Round Flat Metal Air Freshener
No experience parallels the displeasure of traveling in a musty car. Take a stance against disagreeable smells and transform the atmosphere of your vehicle. Install this Round Flat Metal Air Freshener, roll down the windows, and feel the difference as it works in harmony with your car's A/C. Unleash a cascade of refreshing scents, enhancing every ride you take.
Breathe fresh, drive fresh; the Round Flat Metal Air Freshener is an essential for every car owner seeking the perfect olfactory experience.