Are you planning to visit the United States of America but are simply confused about what places to spend money on, or do you want to experience the best winter vacations in the USA and look for the complete guide to what locations to keep on your list? Then, TravellerG8 got you and presents you with 20 top spots to visit during winter in the USA.
So grab a notebook and a pen right now, and start noting down these fantastic spots for your next winter vacation trip to the United States of America.
Yosemite National Park, California
Yosemite became a national park on October 1, 1980. Its best known for its extravagant towering granite monoliths, enormous and ancient sequoia trees, mesmerizing deep valleys, breathtaking waterfall, lake sites, the epochal vista of towering bridal veil fall, and the tunnel view, of course. Isn't it too much to absorb?
Well, we can assure you it is! During the winter season and the first snowfall, the landscape and scenery just extenuates to a whole new level and attract tourists worldwide. Although tourists visit this place throughout the year, during winter, especially people don't miss out on the chance to come to this extravagant spot to spend their winter vacations.
There is a lot of luxury to regular resorts, a wide range of accommodation options with the excellent quality available for people.
Mount Hood, Oregon
This is one of the most likable and highly recommended places to visit among the 20 best places to visit during winter vacations. Mount Hood is located in Mount Hood National Forest and is a significant point of liking and interest for travelers and tourists during winters.
You can do a lot of fun activities like camping, fishing, hiking trails. We also recommend booking an overnight stay at the storied timberline Lodge. Not only that, make sure you explore the area around the lodge that features various trails that are open to snowshoers.
The Iconic Winter Trails in Wisconsin
This is THE PLACE for our youngsters and teenagers. Not to mention, it's also one of our favorite places for a winter vacation in the USA. The beautiful town of Hayward in Sawyer country has the largest fleet of snow grooming equipment, and that's because the trails are prepared every day to host the vast number of outdoor activities that attract visitors to the area throughout the winter season.
If you are a newbie fat biker, there's a neighboring town of cable that has 80 miles of flat bike trails, and the outfitters there work with you to learn the basics and not miss out on the chance to enjoy the snowy trails in the woods. You also might be astonished to know that there are about 200 miles of cross-country ski trails and so many miles of snowshoe and hiking trails.
Boulder, Colorado
Boulder has one of the most eye-catching and mesmerizing views in the USA, including the eye-catching Rocky Mountains you can't get enough off. Boulder is a place where you can do so many activities and make your trip a memorable one, and we highly recommend you to explore Boulder by Foot. The food, pearl street mall for shopping, the scenic beauty, and all activities in Boulder are absolutely worth giving a shot!
Lake Erie
Lake Erie is all about ice fishing and hand downs, one of the best places for winter vacations in the United States of America, without a doubt. It is on an isolated south bass island and is one of Ohio's best ice fishing lakes. The guides there are excellent and can take you out on the ice from port Clinton's shores.
We recommend you take the island air taxi for a short flight from port Clinton to the island and stay for bed and breakfast. Your guides will set up the entire thing for you while also monitoring the ice conditions. So cut a hole, catch a fish, take a hike, go ice skating, go snowshoeing, visit a museum, warm up with hot drinks there, visit a family fun center, enjoy theatre performance and don't forget to visit a light covered snow house.
Sound amazing, right?
Also, the Lake Erie wing watch area, which is the shoreline between the oak harbor and Lorain, is among USA's best areas for birding. The area is home to more than three hundred bird species, including Regal bald eagles and colorful warblers. We wish you the best of luck this year for your winter vacations at Lake Erie!
The Beautiful Joshua Tree National Park
The beautiful Joshua tree is located in southern California, USA, very much near to the Mojave Desert. The Winter season is the best season to visit the national park and do fun activities for your winter vacations here. The top and main activity to do in Joshua tree national park is to go hiking.
Yes, hiking! Don't worry; you might now know, but the Ryan mountain trail there is a much moderate and more accessible trail for hiking in winter than in summer. The hike takes a total of 120 minutes, and within 120 minutes, you'll arrive at 1000 feet. The moment you reach the top is when you'll get the real treat. The view from the top of the mountains, trees, and the entire park itself will leave you stunned.
So, Joshua trees alone aren't the only thing in Joshua national park, but you can do several activities and enjoy several other things on the Ryan mountain trail.
You can also go camping here. A fee is though charged per night for any camping spot you choose, and there are around nine campgrounds in the park. Not only this, but the park is also very famous amongst and for rock climbers. The paved main roads of Joshua national park allow easy access to travelers for the beautiful scenic beauty. You can also use this chance to connect with nature and beautiful scenic beauty; there are a lot of birds and wildlife too!
Kings Canyon National Park, California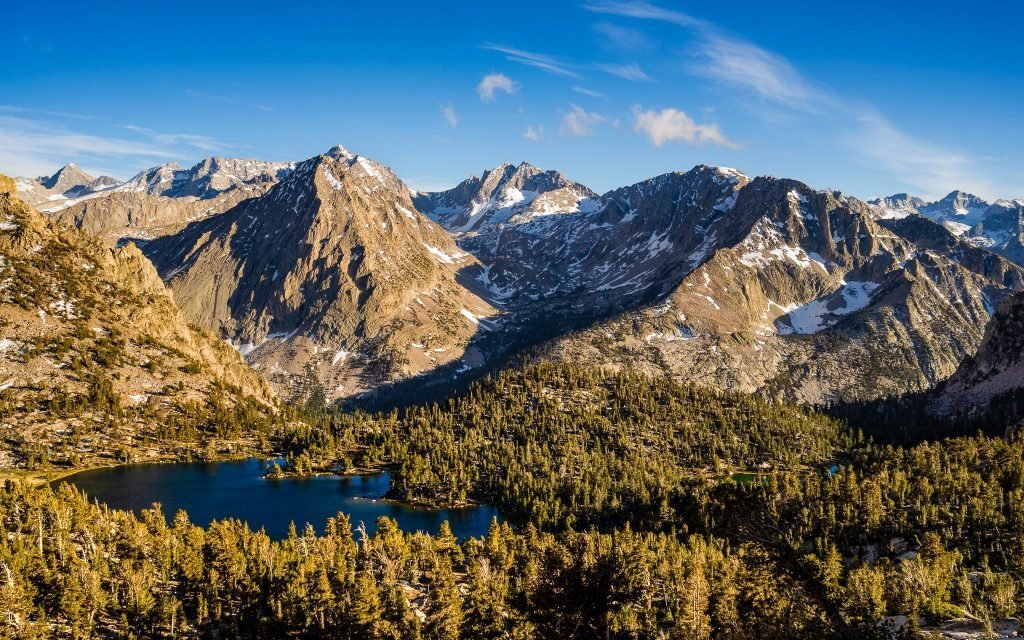 The next best place we present you is definitely a national treasure in the United States of America. This is also one of the best places amongst the top 20 best places to visit to spend your winter vacations. The mesmerizing scenery includes gigantic granite cliffs, roaring Kings River, and dense forests of colossal sequoias that are breathtaking and will leave you stunned.
Kings Canyon National park's deep valleys, unique rock outcropping, skyscraping trees, and breathtaking views are something worth the visit and that too for your winter vacations. A lot of features of kings canyon national park indeed resemble Yosemite Valley.
Leavenworth, Washington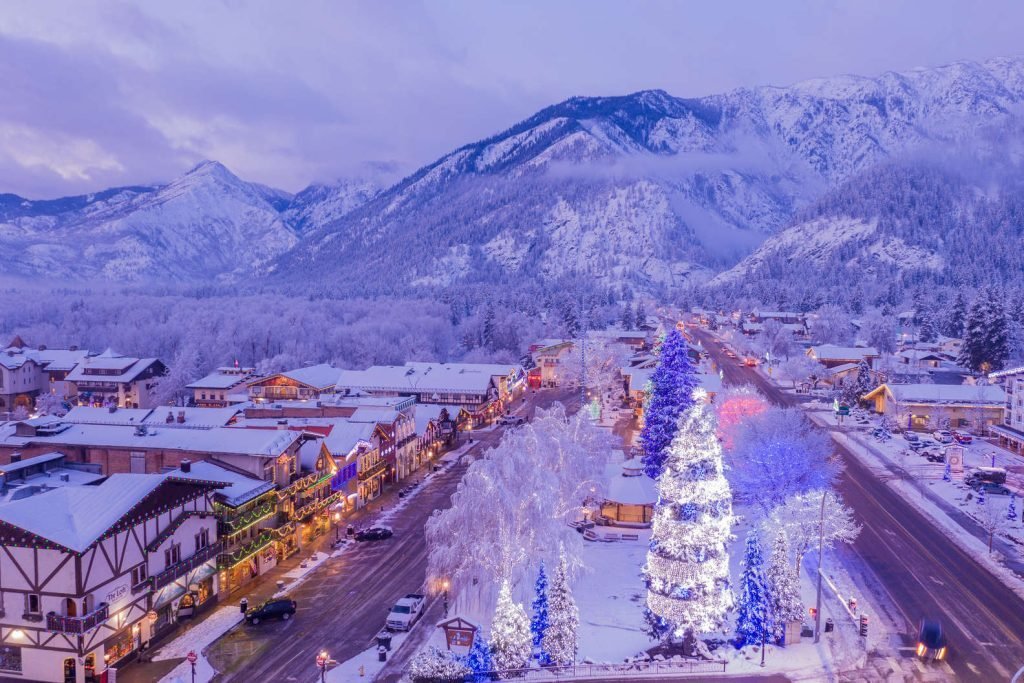 It is a very simple, relaxing, and definitely, a must place to visit during winter vacation in the USA. Especially In winter, Leavenworth is just breathtaking. Everything there, every building, shop, Starbucks, gas station, all look like a scene from a movie since the vibe is super relaxed and chic.
It's like a German village, but in a fairytale, especially during the winter season, the village is transformed into a winter wonderland because it is decorated with around 500,000, especially during the Christmas season. The food here is also delicious and will surely be the best treatment for your winter vacations.
Winter Lake, Tahoe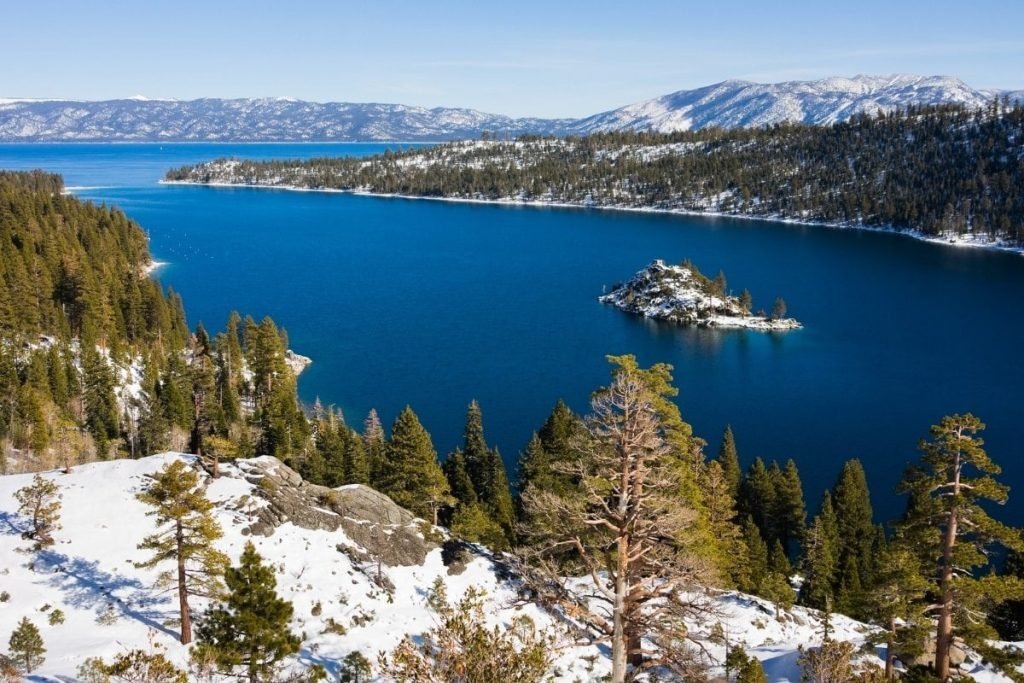 Lake Tahoe ranks amongst the top 20 oldest lakes and purest water lakes to exist. Motorcycling, bicycling, and hiking are the top activities to do here. Tahoe Lake and its scenic beauty allow motorcyclists to ride on and off-road.
The most famous circuit runs clockwise around the lake, starting from South Lake Tahoe. Added to that, there are a number of hiking and bicycling activities as well. Tahoe rim trail is one of the famous trails there, and it circumnavigates the lake.
Finger Lakes, New York
Finger Lakes is definitely an underrated destination for visiting in the United States of America. Skiing is the most popular activity here, and when you come across the sloped covered by glaciers that make up a large ski area, you'll without a doubt not be disappointed at all. Song Mountain, Bristol Mountain, Greek Peak Mountain, and Labrador Mountain are the most famous ski areas there with excellent trails.
Big Bend National Park, Texas
Being one of the largest national parks in the contiguous United States of America, the big bend is undoubtedly primarily known for its hiking and backpacking trails. Chimney trail, Marrufo Vega trail, south rim trail, outer Mountain loop trail in Chisos are the most marked trails.
Grapevine Hills, Mule Ears, Santa Elena Canyon, are also top-rated locations here, and professional bag packing guide services provide trips in the park.
The big ben national park is situated on the southwest border of Mexico and Texas, which is adjacent to the Rio Grande River and provides a fantastic winter landscape, so definitely check this place out for spending your winter vacations.
So what are you waiting for?
Savannah, Georgia
Savannah, GA a place for winter lovers who like to spend their essential and lovely times on cold days. Savannah, GA, is located in Georgia. It is mainly known for its very vibrant designs and mostly historical cobblestone buildings that attract tourists worldwide. It is definitely a safe place to travel day and night.
If you think it is worth it travel experience, YES because its rich and beautiful history will make you fascinated as this small area is a gem for Georgia. It is known as one of the friendliest cities in the world with good people and a nature-friendly environment.
Bryce Canyon National Park, Utah
This place is located in southern Utah. It is not just a place. It is a miracle; it's a paradise that you see your eyes won't believe. It's like it gets more beautiful in winters, while the cliffs form by erosion in summers. Its geology is fascinating; lots of geologists and travelers come here for the sake of beauty and knowledge.
The most unimaginable place is Thor's hammer cliff shaped like Thor's hammer. Isn't that so cool! And all this artwork is natural and is done by erosion. And the last, the coating layer of snow in the winter is so beautiful that your eyes would be thankful for watching that scenery.
Cibola National Forest, New Mexico
This forest is mainly for people who love to do physical things naturally because there are various things you can do here, just like all the forests. Like the fit people, you can hike here and ride a bicycle, and this place is best for winters because the view here is fantastic in winter.
The snow covering makes the mountains snow pyramids. You can hunt animals there and have fun with family hiking and riding bicycles.
There are tons of recreational opportunities like backpacking, skiing, hiking, star gazing, horseback riding, mountain biking, enjoying wildlife, camping, eating the best food, and don't forget to enjoy the aerial Sandia Peak Tramway along with skiing at the top.
You may not know, but the most famous recreational activities on Cibola are viewing natural features and hiking/ walking.
Sandpoint, Idaho
Good news, winter lovers! The heavens are on the earth! This place is so good in the winter that people around the world come to see the beauty here! It is basically an open town for everybody you can do all activities here. The most common activity is ski. The gentle slope downwards attracts ski lovers.
And all around this town is surrounded by many mountains and beautiful seas. So you can have an enjoyable vacation here! It gives you such beautiful scenes that you have never seen. The fresh air relaxes your body, and the people there are so friendly they will treat you like your family. So it is a perfect place to visit!
Whitefish, Montana
It is the best place to live and go on vacations in Montana. The place is safe and is public all the time, like 24 hours. It has most restaurants, coffee shops, etc. the public schools are highly appreciated over there. It is primarily suitable for touring in winters. You can hang around all day and still have fun.
You can hike in the mountains there. The snowy coating makes this place was beautiful! Activities like snowboarding, skiing, cross country skiing, snowshoeing, fat tire biking, distillery tour, sledding, shopping downtown, snowmobiling, enjoying arts, and experiencing the winter carnival in whitefish are essential. Yes, essential for you to have the best winter vacation experience.
The Olympic National Park, Washington
The Olympic national park had to make it to the list without a doubt due to its unique rock features, absolutely stunning landscape, the wilderness coast, and honestly a fantastic crowd of people. Bear in mind, permits will definitely be required to camp on the beach, and the same goes for bear canisters.
The Olympic national park is one of the most distinguished national parks in the United States because of its differentiating features, including beaches, lakes, and snow-blanketed mountains.
The must-stops shall be Lake Crescent, Hoh rainforest, and the snow-blanketed hurricane ridge. At Lake Crescent, you can rent a kayak and go for a fantastic experience of scenic beauty.
Not only this, the Olympic national park has a long coastline with untamed beaches. Our favorite and recommended beaches there would be Ruby and Shi Shi beaches.
So pack your bags now and visit this place for an ultimate winter vacation experience!
Breckinridge, Colorado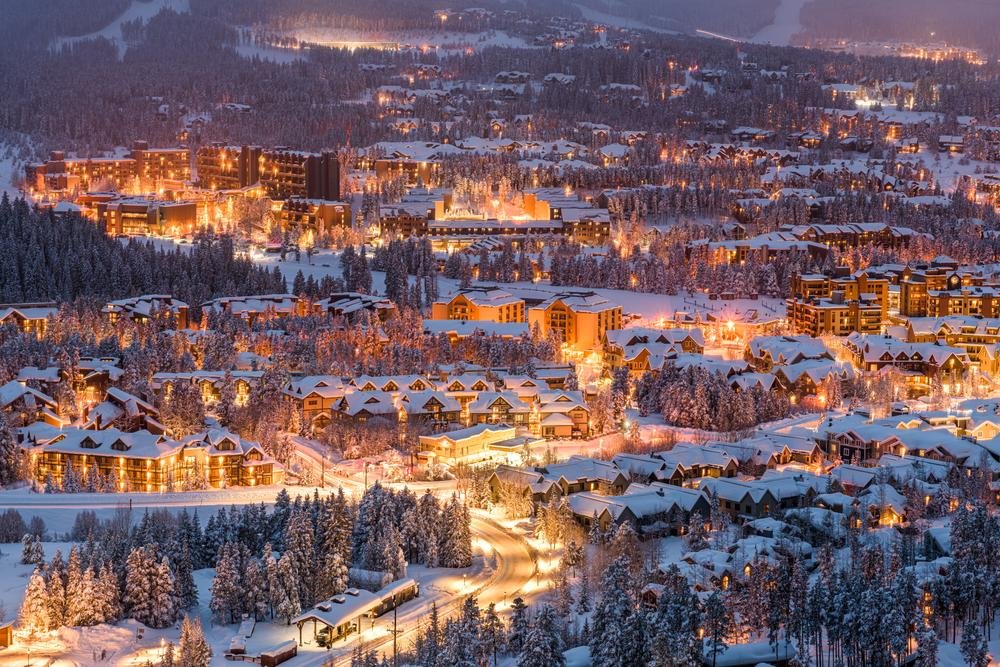 Breckenridge is a proper mountain town with a historical and rich heritage that goes back to around the mid-1800s. It's most famous for its delightful main street with a variety of shops, restaurants, hotels, and other forms of entertainment. It's only a ski town and is one of the most famous ski resorts in Colorado; it has one of the best terrain parks globally, along with about 2300 acres of terrain for trained and professional skiers and snowboarders at Breckenridge.
Don't know how to ski? Don't like skiing? Well, don't worry because there are other fun activities to do at Breckenridge in winter, too, other than just skiing like tubing, dog sledding, enjoying the scenic beauty, and walking history tours. Doesn't it sound fun but relaxing at the same time? It surely does!
Boston, Massachusetts
Boston is the place for all fun-loving city people out there! It's the capital of the Commonwealth of Massachusetts. Boston is a city with mesmerizing attractions, including Boston Common, Fenway Park, Newbury Street, and freedom trial.
The most charming neighborhood in Boston happens to be Beacon Hill and is definitely a must-visit along the cozy cobblestoned streets. You'll absolutely love the historic brick buildings, unique door knockers, convoluted doorways, and hanging planters filled with bearing fruits.
Sounds super amusing, right? Boston is also one of the most populated cities in the world, and in winter, the city just has a park-like no other city in the United States of America.
Boston is also very well known for the museums there, stained-glass globe at the Mapparium in the mary baker eddy library, Boston tea party ships, and museum where you can learn and know more about American history. It is also home to the famous Harvard University.
Don't forget to skate or sled in Boston common, walk the freedom trail, enjoy the view from the prudential skywalk observatory, explore museums, drink hot chocolate, take a tour of Taza Chocolate factory, watch a play in the theatre district, shop at the prudential center, visit holiday market and much more!
These are some of the activities you have to try in Boston during winter vacations here!
San Diego During Winter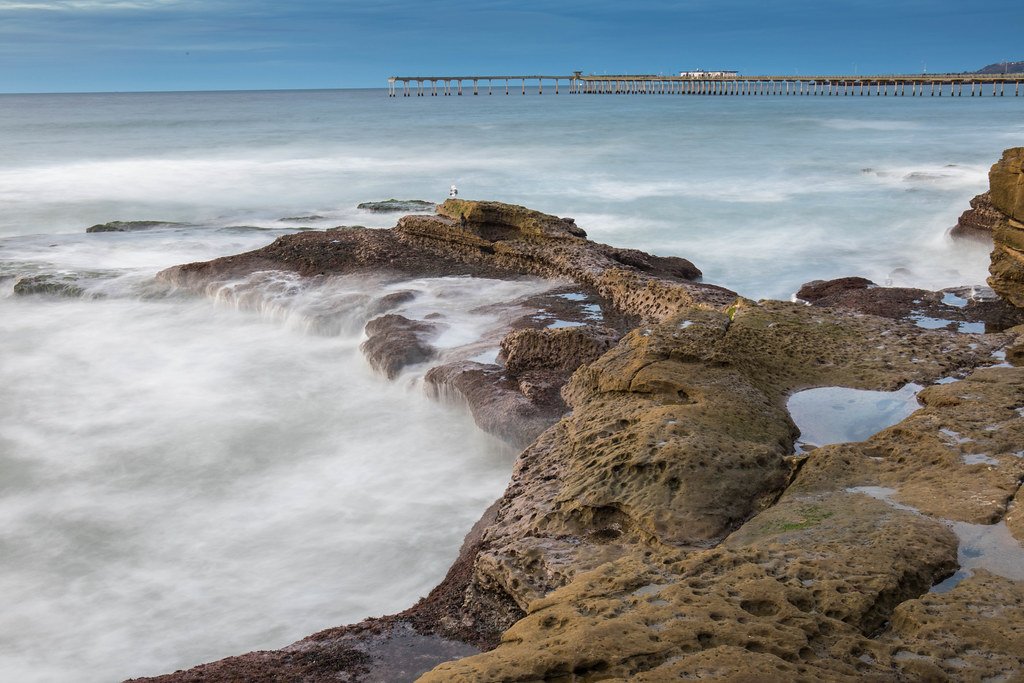 San Diego is a must-visit destination to get the most out of your winter vacation in the United States of America. It has got everything you'll want to experience, ranging from the best food restaurants' to beaches that are open all year round.
San Diego attracts visitors all year round, especially during winters, for all the right reasons and has made it to our list of 20 best places and destinations to visit for a winter vacation in the USA.
There is a range of activities you can do there like watching the sunset at sunset cliffs, checking out and visiting balboa park December nights, eating food at Liberty public market, going whale watching, planning a trip to Julian for sure, experiencing san Diego bay parade of lights, enjoy the food in convoy district and of course go ice skating.
Don't forget to head to Balboa Park if you like learning, and the park is home to beautiful gardens, the world-famous San Diego zoo, and around 17 museums. Not only that, if you want to enjoy the cosmopolitan city vibes, then don't miss the opportunity to go to the historic Gaslamp quarter and the restaurants in little Italy.
This completes our thrilling list of the 20 best places to visit for winter vacations, and we hope you will like it. All the places mentioned have something unique and eye-catching in them, so you may choose whatever suits you the best and whatever suits your family the best.
Winter vacations are the time of year when you want to forget all your problems and relax, have fun, and take time out for yourself and your family, and these destinations will fulfill all your needs.
It's also essential to have all the prerequisites ready like clothes, the place or hotel you will be staying at whatever destination you choose, and the right amount of cash so that you don't have to face any problems at all.
We hope that you will enjoy your winter vacation at one of our recommended places and we assure you that you won't be disappointed at all.
So what's the wait for? Grab your clothes, book tickets, book your hotel, and head to the United States of America if you live in another country. If you're living in America, then just straight away, head to your preferred destination within the USA.