Traveller G8 presents you 20 best vacation spots in the USA. You don't have to worry about whether your investment in summer vacation will be worth it or not. You don't have to worry about what place to choose because the list of 20 top destinations for summer vacations is made to include spots that will fulfil your needs. So to find out the place that will suit you the most, keep reading! 
As we all know that when summer is around the corner, the desire to travel is at its peak and who doesn't like a good summer vacation and that too in a beautiful place like the USA?
There are many spots where you can go, but we will help you choose the best and the ideal places to visit. The most memorable places to give you the ideal summer vacation whether you're travelling with your family, spouse or alone.
You will definitely find a trip of your taste on this list. This is going to be your guide to the most impeccable places to visit for your summer getaway.
We will be providing you with everything you need to know about these places, so you can choose the most suitable place for yourself and get the most out of your trip, so let's just get right into it.
We present you top 20 spots in the USA for summer vacations so grab a pen, a paper and start noting down your favourites!
1 – Grand Canyon
 If you want to discover the most stimulating views in the USA, include the Grand Canyon in the list of Best Vacation Spots in the USA. The Grand Canyon National Park is located in Arizona. It's called The Grand Canyon because there's an enormous steep Red Rock Canyon. Arizona Park is an excellent place for hiking, with scenic trails like North Kaibab and Bright Angel.
There are several viewpoints: Architect Colter's Lookout Studio and its Desert View Watchtower, Mather Point, and Yavapai Observation Station. The Colorado River is an unmissable visit if you enjoy sunset and sunrise; it is intertwined with a 277-mile long canyon and offers whitewater rafting.
Lipan Point offers a panoramic view of the canyon and a perfect picture. No matter how you opt to make the most out of your time in the Grand Canyon, indeed, you're going to feel like a minion between giant layered red rocks and extensive views. 
2- Yosemite – Best Vacation Spots in the USA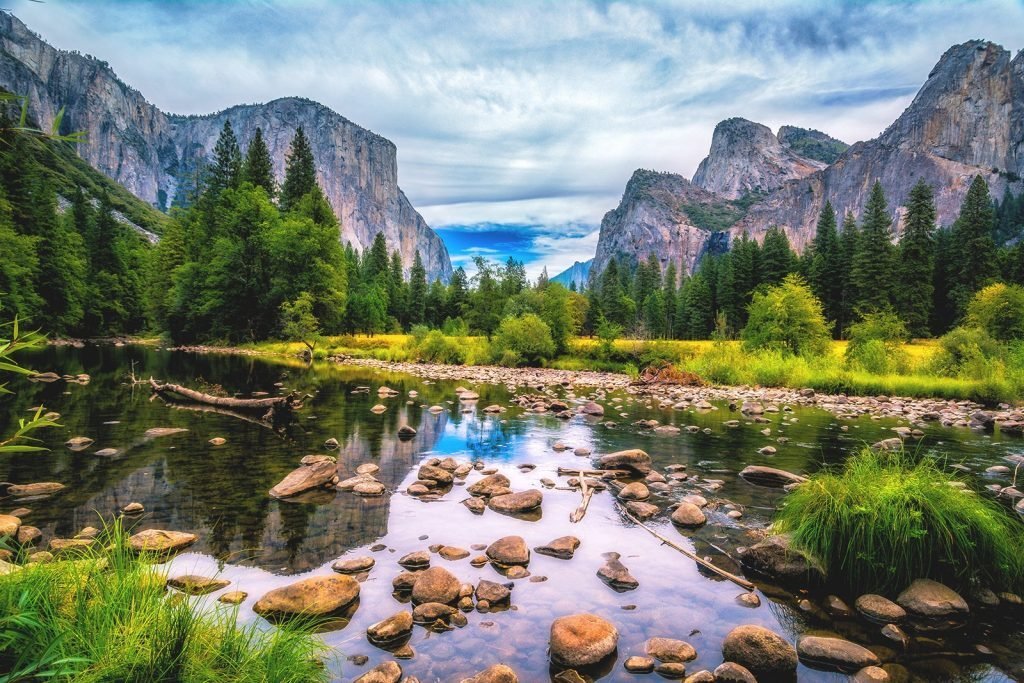 If you want to reconnect with nature, Yosemite is your place to go. Yosemite National Park is found in California's Sierra Nevada mountains. It's famous for its granite cliffs of El Capitan, and don't forget to check out the renowned Half Dome and the Mist Trail and other paths, Glacier Point or trekking on Cathedral Lakes. Colossus, prehistoric sequoia trees, and Tunnel vistas.
Moreover, in Yosemite Village is the Yosemite Museum and the Ansel Adams Gallery, with prints of the photographer's famous black-and-white landscapes, and there are shops, lodgings, and restaurants. You must have the desire to reserve a little time to worship the various waterfalls of Yosemite, including the imposing Yosemite Falls, which is the seventh-highest waterfall in the world and get Bridalveil Fall's exemplary views.
If you're not a camping person, you can choose to plan a day trip from Lake Tahoe, San Francisco or Sacramento.
3-Yellowstone  – Best Vacation Spots in the USA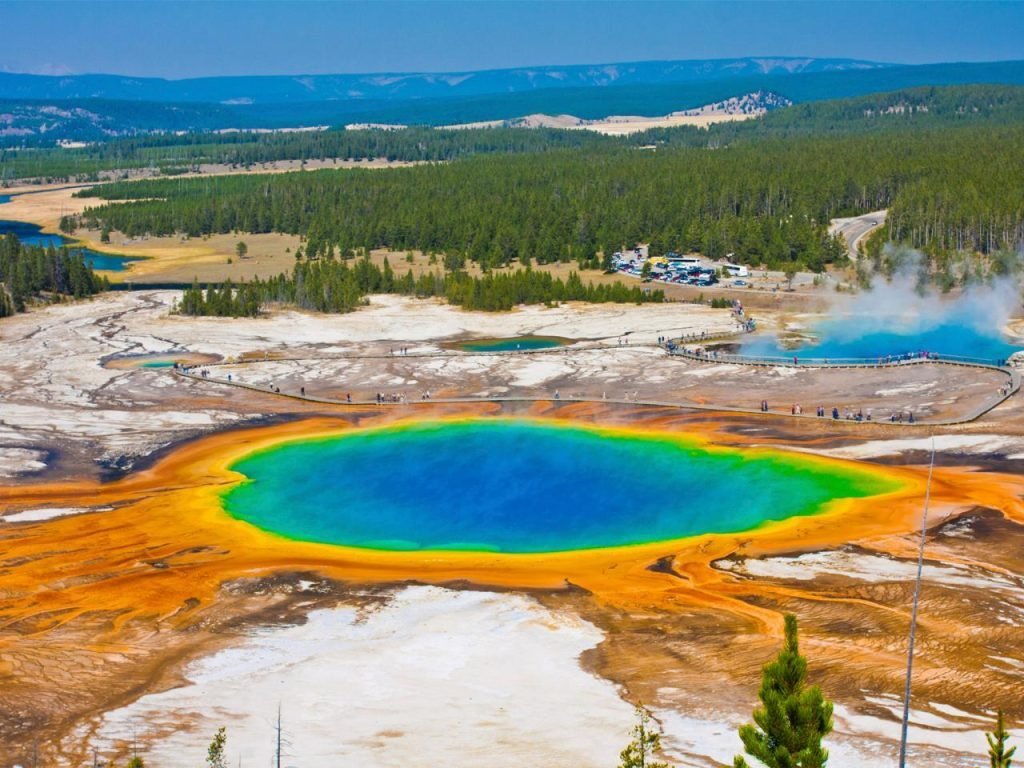 Yellowstone National Park is an almost 3,500 square mile wilderness recreation area that attracts tourists and is a volcanic hotspot. It became the first national park for everyone to enjoy the distinctive hydrothermal and geologic marvel that provides over 900 miles of hiking trails and numerous attractions to delight nature lovers from effusive geysers to hot springs. Mostly in Wyoming, the park extends across parts of Idaho and Montana as well.
Yellowstone presents its renowned Old Faithful, canyons, and luxuriant forests. Animal lovers will also enjoy visiting the Wolf Discovery Centre and the Grizzly Bear to learn more about the local fauna. If you want to look for wild animals inside the park – which live in parts of Wyoming, Montana and Idaho – spend a few hours driving through the Hayden and Lamar valleys.
These two areas are considered cherished refuges for bison, wolves and grey bears from Yellowstone National Park. It is also a shelter to hundreds of numerous animal species, such as antelope and elk.
If you have an immense love for nature, then this has to be just the place for you because Yellowstone National Park allows you to explore the staggering beauty of nature at its finest. The location of this park is in the western United States.
With more than two million acres of natural landscapes comprising canyons, rivers, lakes and mountain ranges that are worth seeing at least once in a lifetime.
Not just this, the wildlife over here is worth exploring. This is one of the most prominent tourist's spots, and it attracts millions of people, especially in the months of summer.
You can experience numerous things, including boating, hiking, fishing, sightseeing and camping. If you are looking for a vacation that is full of thrill and adventure, then this is your go-to.
4-Maui - A Must Vacation Spot in the USA
Maui is a central Pacific island, part of the Hawaiian archipelago. It is also known as "The Valley Isle," it's the second-largest Hawaiian island. Although the island is adored for its renowned perfect beaches and lush green parks, Maui offers enough relaxation possibilities. Sprawling Haleakala National Park surrounds the waterfalls and pools of Ohe'o Gulch and the island's highest peak, volcanic Haleakala.
You can hike up to that peak for a memorable experience as you can catch a sunset or sunrise. Here, you can spend your days adorning the landscapes as you cruise across the picturesque, twisting Hana Highway, fly above the Hawaiian island in a helicopter or lounge via the black sands of Waianapanapa State Park.
The 30 miles of beaches on the island include Kapalua Gold Crescent, protected from powerful currents by lava-rock headlands. If you prefer staying in water rather than sunbathing on the sand, book yourself a snorkelling tour. Of course, the seafood of Maui is a must but don't miss out on the other delights of the island. 
5-Glacier National Park Glacier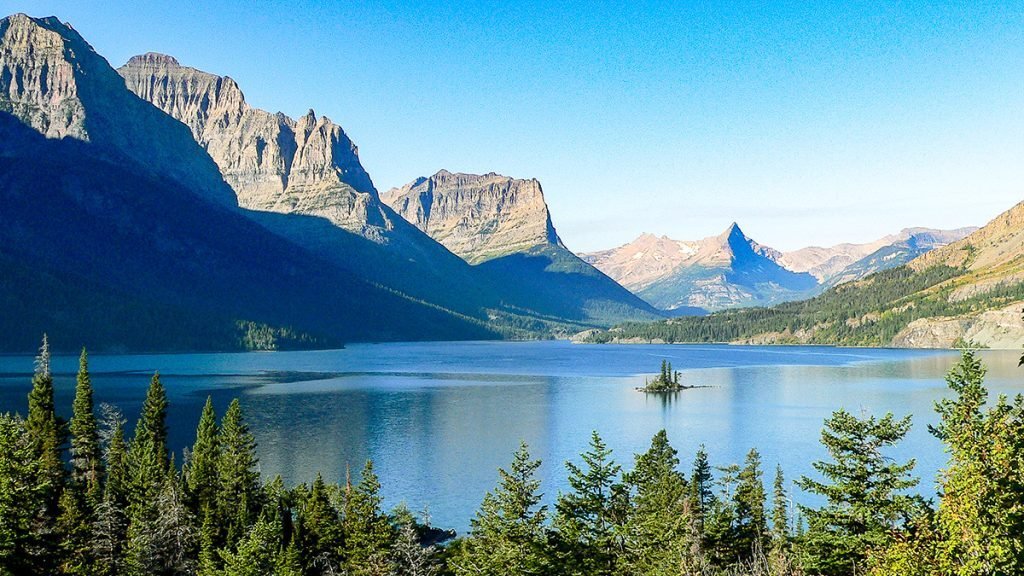 National Park is a wilderness area of 1,583 square miles in the Rocky Mountains of Montana, with peaks and valleys sculpted by glaciers moving towards the Canadian border. The mountainous Going-to-the-Sun Road cuts across it. With over 700 miles of hiking trails, it has a way to mesmeric Hidden Lake, and Glaciers are the main draw. It is a hiker's haven for daring tourists finding wilderness and isolation.
Hiking is the recreation most appreciated by tourists, as there is a mixture of steep trails, exciting paths such as the Grinnell Glacier and accessible trails.
In addition, there are more activities such as camping, biking and trekking. There are several waterfalls, two mountain ranges and more than 700 lakes which are beautiful. Furthermore, the region is the central location for fishing and canoeing in the summer. In addition to that, wild animals such as elk, bears and moose are regularly spotted here.
6-Mackinac island
Mackinac island is worth it; even two days on this island will fill you with joy and contentment. You won't be upset about investing in your summer vacation trip if you visit Mackinac Island. This place deserves to be in the top 20 best places in the USA for summer vacations.
There are no cars or chain hotels there, and you have to take a ferry to the island since the transportation is by carriage and horse, on foot and bicycles. The carriage ride will enable you to tour outdoor, horseback ride through Mackinac Island state park, kayaking trips on the water, and you can also take a leisurely bike ride.
7-Oregon Coast 
Oregon coast is hands down the best vacation spots in the USA due to the wide variety of activities you can do there like sightseeing, hiking, and so much more. Three capes scenic loop is famous for being the best hiking trail which includes a route through old forests and oceans.
Oregon coast happens to be one of the best cities in the USA. Start your journey from the Astoria column that overlooks the Columbia River; visit peter ire dale shipwreck if you enjoy the mystery of shipwrecks. Check out the rusted remains of peter Iredale shipwreck on the beach at Fort Stevens state park.
8-Chicago - The Best Vacation Spots are in Chicago, in USA
Chicago had to make it to the 20 top destinations/spots to visit for summer vacations, without a doubt. This city Is the ultimate summer vibe, and there's nothing that you will miss out on if you visit this city in the USA.
You can do the most fun activities in Chicago like playing volleyball on the beach, watching fireworks at Navy Pier, enjoying the 606 trail, which is Chicago's version of the high line, visiting millennium park, which is the most popular destination in Chicago, enjoy all the major festivals and street fairs and so much more to do!
The rooftop in Chicago during summers is the best thing about Chicago since that's where you enjoy the most with your friends and family for getting together.
Graceland Cemetery is also Chicago's primary attraction, so don't forget to experience it and, of course, the famous kayaking on the river in Chicago. You can also enjoy the local farm-fresh markets during summers.
9-San Diego 
San Diego is the favourite place for visitors during summers from all around the world because of its consistently sunny weather and 70 miles of iconic coastline, which helps attract tourists who are active types and sun-seekers.
Thrilling nightlife, Mexican cuisine and food, and the zoos in san Diego are what makes san Diego our favourite summer vacations spot. Gaslamp Quarter is where you will find pockets of lively nightlife in Chicago. Beaches are the heart of Chicago, like mission beach, La Jolla and Coronado for an excellent seaside stroll and to catch a wave.
Cape code is a family-friendly new England vacation spot in Massachusetts that pleases the visitors with its cosy cottages, colourful clam shacks, eye-catching national seashores of about forty miles, and more.
If you're someone who loves to have fun, then don't miss out on Quahog day, which is a June event where Doug the Quahog makes his weather prediction annually. Heritage museums and gardens and Wellfleet drive-in theatre are some of the other sights you might be interested in.
11- Grand County, Colorado
Are you someone who wants a break from the noises of the city? Then I have just the place for you. Everyone needs a break from their busy routines to freshen up their minds. Grand County, Colorado is the place for you if you are yearning for a quiet and peaceful place.
The best time to visit this place would be in summers because during this time the weather is nice and warm and the wildlife is on the go and to top all that of the flowers and plants are on their peak. In Grand County, Colorado, you can either live close to nature in the mountains and experience different stuff like horse riding and hiking or live in a resort or cottage, and they adore the breathtaking scenes of the largest natural lake of Colorado.
12- Gatlinburg, Tennessee 
If you want to get the best out of your summer getaway, then Gatlinburg is one of the best spots to do that. If you are seeking for mix activities and relaxation during your vacation, Tennessee fulfils all the criteria. Make no mistakes, the core is crowded with families throughout the summer months, but the buzzing activity is part of the atmosphere. 
Gatlinburg has so many activities to keep you entertained throughout your entire summer vacation, from museums to miniature golf to restaurants and amusement parks and many more. Gatlinburg, Tennessee, is a place where you won't ever run out of options.
13- Panama City Beach, Florida 
If you love long walks on the shore and cherish the sound of water splashing on the sand, then Panama City Beach is the right place for you. Most of the memorable summer beach vacations begin in Panama City Beach, Florida.
The eco-friendly location makes it very easy to visit Pier Park later on and get some delicious snacks or lunch. In addition, pier Park has a lot of shops and eateries to keep you busy for a while.
Then head up to the sky wheel to get a good look at the area surrounding you from up top. Finally, if you love fishing, you can spend the day on a deep-sea charter, catching a variety of species, Panama City Beach, Florida, is a diverse and beautiful location to spend your summer vacation.
14- Route 66
If you prefer to see a variety of places during your summer vacation, a road trip along a part of route 66 might be just the ticket.
If you have the time, travel route 66 from Chicago, Illinois to Santa Monica, California, stopping along the way in tiny communities that still had lighted meson diners and historical remnants from when the mother road was constructed as the principal east-west roadway across the country  
15- Virginia Beach, Virginia 
The Virginia Beach Boardwalk is a popular tourist attraction in Virginia as it has a board that is 28- feet wide. It also features a separate biking and strolling path, which is perfect for you if you are in the mood for biking or rollerblading. In the summer months, you can expect entertainment to be offered there nightly.
Apart from the boardwalk, there is also a large variety of outdoor restaurants that have delicious food to offer.
If you have not brought a bike with you, you don't have to worry. There are many places on the beach where you can easily rent a bike for the day. However, if you are visiting Virginia Beach, you must not miss King Neptune, a tall statue at the gateway to the Neptune festival park.
16- Portland, Maine 
Summer is the ideal time of the year to visit Portland, Maine. It is blessed with natural and aesthetically unique beauty. In addition, this destination is the best for outdoor activities.
The lighthouses are one of Portland's most well-known attractions. There are six within a short distance, the most notable Portland headlight in cape Elizabeth.
You won't be able to see such a beautiful sunset anywhere else. It will leave you speechless and mesmerized.
Since Portland is located on the coast, most activities will incorporate the sea, such as fishing, sailing, and even kayaking.
17-San Francisco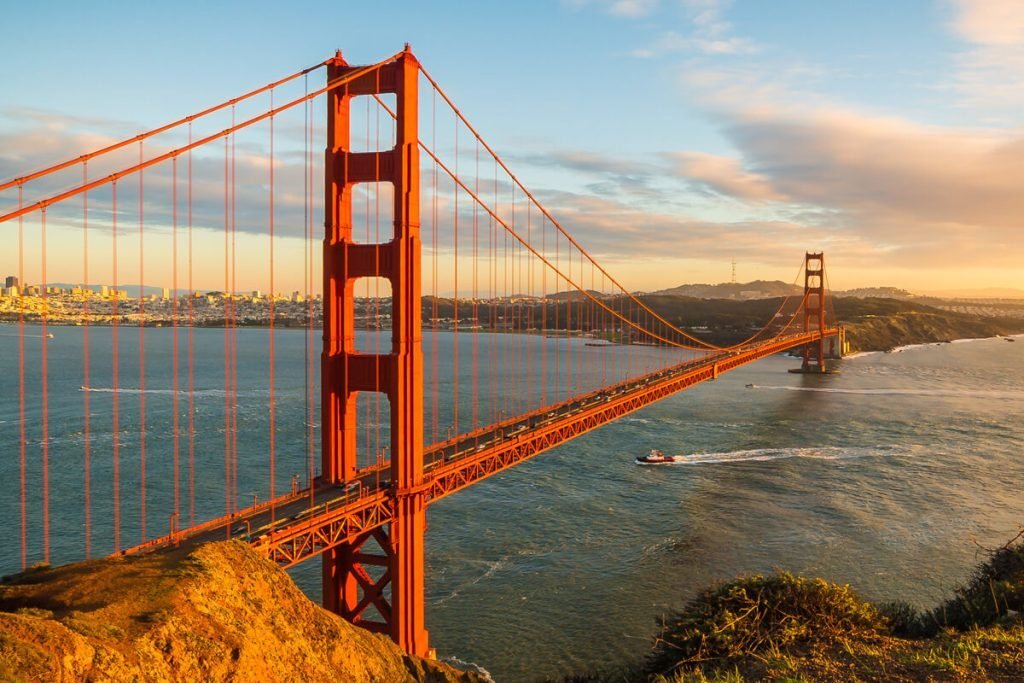 San Francisco is the ultimate go-to best vacation spot in the USA. Concerts, lice music and jazz performance are the best in San Francisco during summer, so that will be your vibe without a doubt.
This city is a cultural and commercial area in the state United States of America state of California. Lombard Street here is a very famous destination for visitors because of its crookedness.
Golden Gate Bridge and Alamo square park are some of the spots in San Francisco that are very popular and are also usually used as landscape shots for the American sitcom whole house.
Not only this, pier 39 is a must-visit because of the various services it offers: shopping, entertainment, sunbathing seals, and much more. Cultural and unique nightlife in its neighbourhoods is offered by San Francisco too.
It's not famous without reason. In 2016 alone, San Francisco attracted the 5th highest number of foreign tourists amongst the other cities in the USA.
18-Aspen, Colorado
Aspen in the summertime is like a fairytale, a living fairytale. Music festivals, miles upon miles of trails, music festivals, and the beautiful, unique style of Colorado will make your experience worth it. Although there are mountains, the aspen the chic pervades whatever you see, experience, and eat in summer.
The restaurants in aspen offer the most fantastic food. Aspen is basically a ski resort and a year-round destination for recreation outdoor and that's why it's one of the best spots for summer vacations in the USA. It's in Colorado's Rocky Mountains, boutiques, amazing restaurants, wheeler opera house and so much more is what aspen is known for.
19-Hawaii
Warm sea breezes, mesmerizing sandy beaches and swaying palm trees is what define The Hawaiian Islands and what a great destination for spending summer vacations in the United States of America. Although Hawaii is a place where you can visit all year round, no matter the weather, everything is just more vibrant and fun in summer.
The food in Hawaii is also delicious and one of the most famous cuisines globally, hands down. Chose your ideal beach, experience surfing at a famous festival, enjoy the tropical gardens, celebrate the arts and do so much more!
So what are you waiting for?
20-Jekyll Island, Georgia
If you love peaceful places and peaceful summer vacations, Jekyll Island in Georgia is your spot. The island's aura is pretty peaceful and lowkey; art galleries, historical museums, golf courses and excellent restaurants just speak for it. It's a historic district filled with exciting history, charming stories and the beautiful homes there will leave you astonished.
We assure you that this place will pass your vibe check, and this is why this Jekyll Island has made it to the top 20 spots and places to visit in the USA for summer vacations.
This wraps up our 20 top spots for summer vacations in the United States of America. We hope you'll like it, and we assure you that no matter what spot you choose from the list of Best Vacation Spots in the USA mentioned above, you'll have fun, and your investment will be worth it because we have chosen the worth it places only for you.
We are super excited for your upcoming summer vacations and hope that the list above would have helped you although were sure that you would have found the best spot for you and your family!
.